Who is the Best Vein Dr. in Clifton?
Dr. Sareh Rajaee: The Best Vein Dr. in Clifton, NJ
Dr. Sareh Rajaee is widely considered the best vein dr. in Clifton, NJ. She's a Yale-trained and board-certified vascular surgeon specializing in the latest minimally invasive treatments for spider veins and varicose veins. She completed her medical doctorate from the Alpert Medical School at Brown University, followed by a Master's in Public Health at the Harvard School of Public Health. She also completed an integrated Vascular Surgery Residency at Yale New Haven Hospital. Finally, Dr. Rajaee has specialized training in open and endovascular procedures for the treatment of peripheral arterial disease and vein disease.
Dr. Rajaee is board-certified by the American Board of Venous and Lymphatic Medicine, an organization that only certifies the country's top 1% vein doctors. To get board-certified by ABVLM, vein doctors must undergo strict tests, professional milestones, and challenges and stay abreast of the latest developments in vein care. As an ABVLM-certified vein specialist, Dr. Rajaee is officially one of the country's leading vein experts. She's also incredibly compassionate and talented, ensuring that her patients feel comfortable under her care. Her exceptional standards of vein care have earned her 5-star ratings from all patients.
Dr. Rajaee has a perfect track record — she has performed hundreds of procedures without major complications or side effects. That's why she has unanimous 5-star testimonials. One of Dr. Rajaee's recent patients wrote: "Dr. Rajaee is literally the best. She made me go from hating how my legs looked and not even being able to run because of cramps to such beautiful legs and running with absolutely zero problems. Coming to their office was the best decision I've ever made, and the staff is so great. Thank you so much to Dr. Rajaee and the staff. If I could give 100 stars, I would."
Dr. Sareh Rajaee is currently the leading vein doctor at the Vein Treatment Clinic in Clifton, NJ. You can find her at 1117 US-46 Suite 205, Clifton, a short drive from the Ford dealership on route 46-E. You may schedule an appointment online or call us at +1 973-447-1383.
VTC: The Best Vein Center in Clifton, NJ
Vein Treatment Clinic is the best spider vein and varicose vein center in Clifton, NJ, especially since we're led by Dr. Rajaee. We individually select the country's leading vein experts from advanced medical schools, residencies, and fellowship programs. Our vein doctors are also required to undergo certifications and stay abreast of the latest developments in vein care. Furthermore, our state-of-the-art vein centers only provide minimally invasive treatments for spider veins and varicose veins, ensuring the most comfortable experience for all patients.
Our vein center also maintains a strict "no surprise billing" policy. We understand that anxieties about your medical condition are often compounded by uncertainties regarding the financial costs involved. We do everything possible to minimize that burden and uncertainty. We provide a complete overview of your vein treatment cost before the procedure, with no hidden costs, so you know exactly what you'll have to pay. Furthermore, we also handle your insurance coverage details and provide free insurance verification before your first appointment. As such, you know your exact out-of-pocket burden ahead of time.
Your Vein Treatments in Clifton, NJ
The Vein Treatment Clinic follows a comprehensive, personalized, and minimally invasive approach to vein treatments. Most vein centers treat spider veins and varicose veins as purely cosmetic problems — they treat spider veins without identifying or treating underlying vein disease, which can increase the risk of recurrence. That's because most vein problems are caused by chronic venous insufficiency, a circulatory disorder wherein your vein valves collapse and blood accumulates in the leg veins. However, Dr. Rajaee always performs thorough examinations before curating a personalized vein treatment plan just for you. The following is an overview of our minimally invasive vein treatment process.
Step 1: Diagnosis
The vein doctor examines your leg veins, discusses your symptoms, and reviews your medical history. You should inform the vein doctor if you have a family history of vein problems and if you're experiencing the following symptoms: leg heaviness, frequent leg cramps, restless leg syndrome, throbbing leg veins, and leg swelling. These are common signs and symptoms of venous insufficiency. The vein doctor will also perform doppler ultrasound, an advanced vascular imaging test to visualize the blood flow in your leg veins and reveal the root cause of your spider veins and varicose veins.
Step 2: Treatment
After understanding the root cause of your vein problems, the vein doctor curates a personalized vein treatment plan. If you have vein disease, your treatment starts with radiofrequency ablation, laser ablation, or venaseal. These procedures destroy or seal the diseased saphenous vein responsible for your vein problems using thermal energy, laser energy, or medical adhesives. After the primary vein treatment, or if you don't have vein disease, the vein doctor provides sclerotherapy or ambulatory phlebectomy. Sclerotherapy removes the spider veins from your skin's surface, and ambulatory phlebectomy is suitable for large varicose veins.
Step 3: Recovery
Minimally invasive spider vein and varicose vein treatments conclude within 60 minutes with no post-treatment complications or downtime. You may experience mild redness, swelling, and irritation for a few hours, and you'll have to wear compression stockings for a few days. But you can resume most of your daily activities and work immediately after the treatment. As such, you can book an appointment even during a workday without worrying about messing up your schedule.
Book a Consultation
Scheduling a consultation with one of our vein treatment experts is one of the best ways to determine the proper resolution for your varicose veins. The treatments can include sclerotherapy, laser or radiofrequency ablation, a medication called Varithena, or procedures such as Venaseal, or Clarivein.
Meet our diplomat-certified team
VENOUS SPECIALIST | Harvard Medical School
Dr. Michael Nguyen is a world renowned and Harvard trained vein specialist in Manhattan. He leads the team of vein doctors offering the highest level of care at the Spider and Varicose Vein Treatment Center in New York & New Jersey.
As a pioneer in the treatment of varicose veins problems, Dr. Nguyen is considered a top vein expert for developing minimally invasive and customized treatment plans for the many symptoms of venous insufficiency, including leg cramps, skin discoloration on legs, spider vein removal, and restless leg syndrome.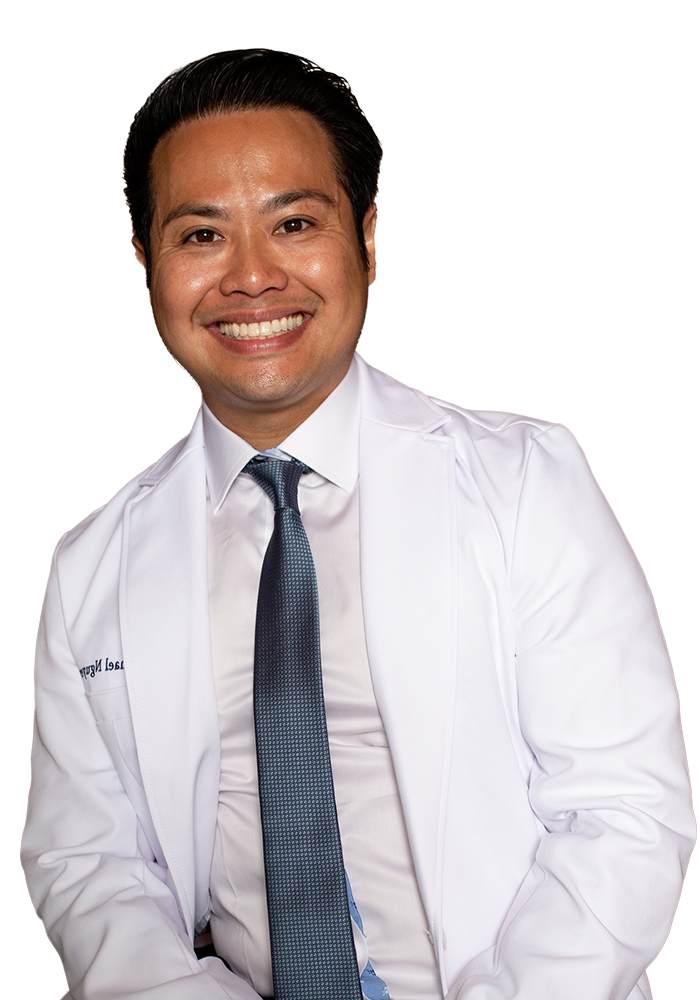 We know health insurance is confusing so we will help you check if you're covered:
TAKE A PERSONAL LOOK AT OUR CLINIC via
Instagram
Who is the Best Vein Dr. in Clifton?