How to Find the Best Clifton Vein Clinic in 2020?
Are you looking for a good vein institute in Clifton NJ for vein treatment? Well, there are a lot of great vein clinics and vein specialists in Clifton, but finding the best one can be challenging.
When it comes to vein treatments, you must find the right vein clinic and vein specialists. If you find an inexperienced vein doctor, they may recommend dangerous surgical procedures, or they may treat the surface symptoms of vein disease without diagnosing the root cause.
Most vein conditions happen because of an underlying circulatory disorder known as chronic venous insufficiency. If left untreated, vein disease can lead to various complications like varicose veins, bleeding, leg ulcers, and deep vein thrombosis, to name a few.
In this article, we'll discuss how to find the best Clifton vein clinic in 2020 and how to book an appointment with the best vein specialists.
A vein institute is only as good as the vein specialists in it. When you consider vein clinics, you must go through their vein specialists and check their credentials. The following qualities will help you filter the best vein specialists in Clifton, NJ:
The best vein specialists are formally recognized by the American Board of Venous Medicine.
The vein institute should only have board-certified doctors because that's an objective guarantee that the doctor has completed several challenging professional milestones like residencies, fellowships, etc.
The vein doctor should ideally have graduated from reputable medical institutions like Harvard Medical School, other Ivy League Universities, or schools of equal standing.
The vein doctor should be a trained expert in vascular imaging since most vein treatments and diagnosis rely on vascular ultrasound.
You should look for vein doctors with a great track record — those who have performed hundreds of procedures with a perfect track record and awesome patient reviews.
You should also look for friendly vein specialists. This may seem like a moot point to you, but it's quite important. In order to help avoid complications and side effects of treatments, the vein doctor must discuss your medical history and examine your symptoms to avoid treatments with a higher risk of side effects. You need a vein doctor who is patient when it comes to curating a treatment plan.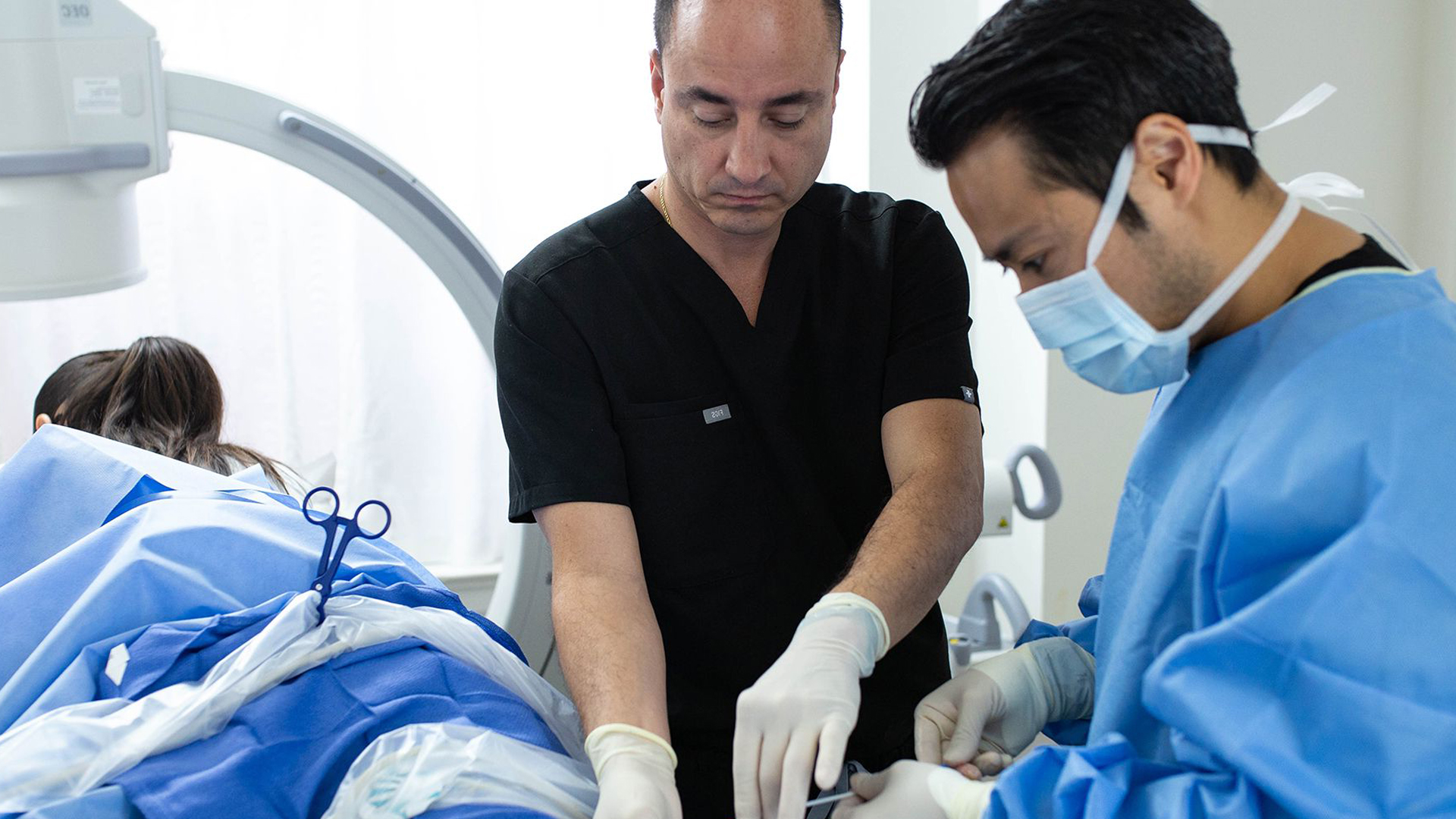 Diagnosis before Treatment
Some vein specialists jump to the treatment of vein disease before they've even run diagnostic or screening tests. That's dangerous and ill-advised because seemingly-benign issues like spider veins can often be indicative of underlying venous insufficiency. If the vein specialist treats spider veins without identifying and treating the root cause, your spider veins will return later.
When you book an appointment with the vein specialist, they should examine your symptoms and run a Doppler Ultrasound test to diagnose the root cause of spider and varicose veins. Doppler Ultrasound will help them visualize the blood flow in your veins and identify the presence of vein disease. They can curate a treatment plan based on the diagnosis.
State-of-the-Art Vein Institute
Advanced minimally invasive vein treatments rely on modern technologies and equipment. As such, you must find a vein institute that's highly advanced and equipped with the latest technologies such as VNUS, ClosureFAST, ClariVein, and others. These devices are instrumental in providing minimally invasive vein treatments while minimizing the risk of side effects.
Minimally Invasive Vein Treatments
In the past, vein specialists relied on vascular surgeries for varicose vein treatments. However, surgical procedures have fallen out of favor because they're relatively ineffective and have a high risk of side effects and complications like deep vein thrombosis and infections.
Vein specialists now focus on minimally invasive vein treatments such as radiofrequency ablation, endovenous laser ablation, and VenaSeal. These are minimally invasive and non-surgical vein treatments that cause minimal pain or discomfort, are extremely safe with a negligible risk of side effects, and they conclude within an hour with no serious downtime. Most people can resume their daily activities immediately after the treatment.
These minimally invasive vein treatments use methods like heat energy, laser energy, or medical adhesive to collapse or seal the diseased saphenous vein. Once the diseased vein is closed, the accumulated blood reroutes to healthier veins to restore smooth blood circulation to the heart. Once the vein disease is treated, the vein specialists may include sclerotherapy in the treatment to also remove the spider veins.
Insurance Coverage
Varicose vein treatments can be costly, ranging in the thousands of dollars. However, radiofrequency ablation and endovenous laser ablation are deemed to be medically necessary procedures, so they receive insurance coverage. You must find a vein institute that actively helps you reduce your financial burden by helping you get the best possible insurance coverage for your treatment.
Convenient Location
The vein institute should also be located in a convenient and accessible part of Clifton, NJ, so you can access it easily using private or public transportation. This is especially important if your vein doctor needs you to return for several follow-up sessions.
Book an Appointment with the Best Vein Institute in Clifton, NJ
Vein Treatment Clinic is one of the best vein institutes in Clifton, NJ. Our vein institute is presided by Dr. Caroline Novak, one of the best vein specialists in the country who has a perfect track record after having treated hundreds of patients. Our vein clinic is located right off NJ-3 on Route 46-E — it's a highly accessible location with plenty of parking space. For more information, please book an appointment for communication by email or text.
Book a Consultation
Scheduling a consultation with one of our vein treatment experts is one of the best ways to determine the proper resolution for your varicose veins. The treatments can include sclerotherapy, laser or radiofrequency ablation, a medication called Varithena, or procedures such as Venaseal, or Clarivein.
We are one of the top spider vein and varicose vein treatment centers in the Nation, offering the latest treatments and the most state of the art technology. Our vein treatment center sources the best vein doctors and specialists from around the world.
Covered by most insurances, including Medicare.
Enter your information below to get started
By emailing us or contacting us via web form, you are accepting the inherent privacy limitations of online communication. For more information about internet privacy, please read our Communication by Email/Text document. Please respond "stop" to text messages to opt out.
How to Find the Best Clifton Vein Clinic in 2020?