Looking for a varicose vein treatment center in San Diego?
Varicose veins are more common than you might think – it affects almost 40 million Americans, and over half of all women. Not only are they unsightly, varicose veins can signal a deeper, complex vein disease that needs treatment. Finding a solution to your vein problem, however, is not always so easy. With several vein treatment centers and procedures available, choosing the right one can be a challenge. What factors do you look for while choosing the right vein doctor and varicose vein clinic? Read on to find out.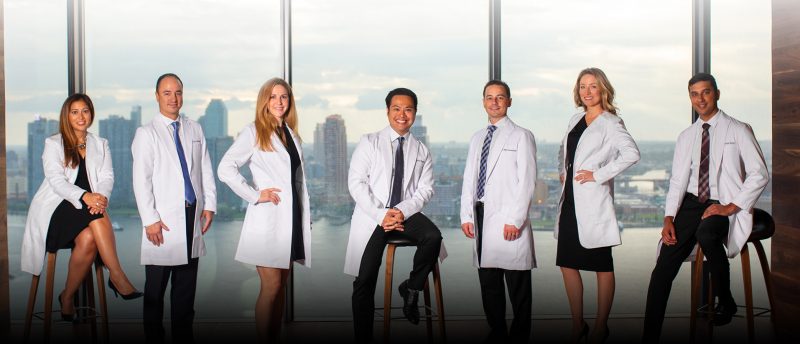 Experience state of the art varicose vein treatment at our center in San Diego
The Vein Treatment Clinic at San Diego offers excellent varicose vein treatment under the impeccable leadership of the two co-directors, Dr. Billy Schoenfeld and Dr. Carly Guthrie. Several reasons make VTC, stand out as an exceptional place for varicose vein treatment.
Eminent treating physicians
The vein doctors at VTC have trained at Harvard Medical School, one of the premier Ivy League institutions in the country. Both Dr. Billy Schoenfeld and Dr. Carly Guthrie are double board certified, and their areas of expertise include anaesthesiology as well as vein medicine. Having worked with top vein doctors around the world, our physicians bring knowledge and expertise and skills that were previously unavailable to our patients in San Diego.
Expert clinical staff
At VTC, the clinical staff are highly trained and have certifications required to assist with the comprehensive care process. Ultrasonography, which plays a major part in helping us diagnose your type of vein disease, is performed only by skilled technicians. The results of this investigation are always interpreted only by one of our expert physicians. The support staff are committed to making you feel comfortable throughout your consultation and treatment process.
New generation technology
The vein doctors at VTC offer the latest, minimally invasive treatment technology to patients in South California. These include radiofrequency ablation, ultrasound guided sclerotherapy, and the newest procedure – VenaSeal. Adopting cutting edge procedures allows us to make your treatment more comfortable, and more convenient. All the procedures performed at VTC are minimally invasive procedures, and do not require any recovery time – you can go straight back to work if you wish!
Single, like-minded goal
The VTC team has one goal in mind – to help patients like you walk out of the clinic disease free, healthier and satisfied. Dr. Billy Schoenfeld and Dr. Carly Guthrie are committed to making this happen by offering one additional ingredient – the personal touch. Our doctors get to know you as an individual, and will sort out a treatment plan for you based on your unique needs and comfort levels.
Easy on your pocket
All the doctors at VTC accept all major forms of insurance, including Medicare. Vein disease which is associated with painful symptoms is usually covered by insurance, making it easy on your pocket. Our clinic coordinators can assist you in finding out specific details about your financial plan and options for coverage.
What to expect when you visit the Vein Treatment Center in San Diego
At your initial consultation, you may be asked to fill out a few forms, and our nursing staff will talk to you to get your medical history. One of our two top vein doctors will then consult with you, and ask you about your vein problem, its duration, and whether or not you've had any symptoms associated with it. You may then require an ultrasound to determine whether or not you have chronic venous insufficiency. Based on the results of your physical examination and ultrasound, your vein doctor will put together a treatment plan that works for you.
What treatment will you need for your varicose vein problem?
Varicose veins can only be treated by removing the faulty vein. While each patient has their own unique plan, your treatment may include one or more of the following minimally invasive procedures:
Sclerotherapy: The varicose vein doctor will inject a medicated solution into the defective vein, which causes it to scar it and seal off. This is generally employed for smaller veins.
Radiofrequency Ablation: A radiofrequency catheter is inserted into the vein. Heat applied through the catheter destroys the vein from within.
Endovenous Laser Vein Ablation: Laser treatment is practically the same as RFA, except that a laser fiber is used instead of a radiofrequency catheter.
Venaseal: This is one of the most recent, cutting edge procedures introduced. Medical grade glue is injected into your vein, which seals it off. This is one of the least invasive procedures.
Clarivein: This combines the benefits of sclerotherapy and endovenous therapy. A tiny device, which is implanted into your vein, releases a sclerosing solution from within. This causes the vein to scar, seal off, and eventually disappear.
Varithena: This is similar to scleotherapy, and can be used for medium sized veins. Medicated foam is injected into your veins, which again helps it scar and seal off.
The Vein Treatment Clinic comes under the umbrella of the VIP Medical Group, a healthcare model that is committed to helping patients deal with chronic pain and vein diseases using the most comfortable options available. The VIP group has on board some of the best vein doctors from around the country. You can schedule an appointment any one of our convenient locations, where our staff will be happy to guide you.
Looking for a varicose vein treatment center in San Diego?
ultima modifica:
2019-04-07T19:05:28-04:00
da