What's the Best Varicose Vein Center in LI?
Vein Treatment Clinic is the best varicose vein center in LI.
Vein Treatment Clinic is widely considered the best varicose vein center in LI, led by exceptionally skilled board-certified vein doctors. We have two vein centers in Long Island, one on the north shore and the other on the south shore. Our vein center on the north shore is currently located within the Truth and Beauty Med Spa in Roslyn Park, right beside the Long Island Expressway, though we are soon going to establish an independent location, as well. Our vein center on the south shore is located on the Montauk Highway bordering Suffolk County and Nassau County. You may schedule an appointment online or call us at +1 631-919-4495 (North) or +1 631-212-1456 (South).
When we say VTC Long Island is the best vein treatment center on the island, it's not an empty boast. Our claim is backed by unanimous 5-star ratings and reviews from all patients in both of our vein centers. One of our patients recently said, "I highly recommend this clinic! Dr. Novak made me feel at ease and comfortable during all my procedures from day one and listened to all my concerns. The front desk staff is welcoming, and I'm always seen on time. I've been to other vein doctors in the past, and they don't compare to Dr. Novak. She's the best! I'm so happy I found them!"
There are several reasons for our impeccable location, including our convenient location and patient care standards. However, two factors distinguish us more than all others — board-certified vein doctors and a unique minimally invasive varicose vein treatment process. Please continue reading to learn about our vein doctors and vein treatments.
Dr. Caroline Novak and Dr. Kamran Saraf are the best vein experts in Long Island.
Dr. Caroline Novak and Dr. Kamran Saraf are the best vein experts in Long Island, currently practicing in VTC LI North Shore and VTC LI South Shore, respectively.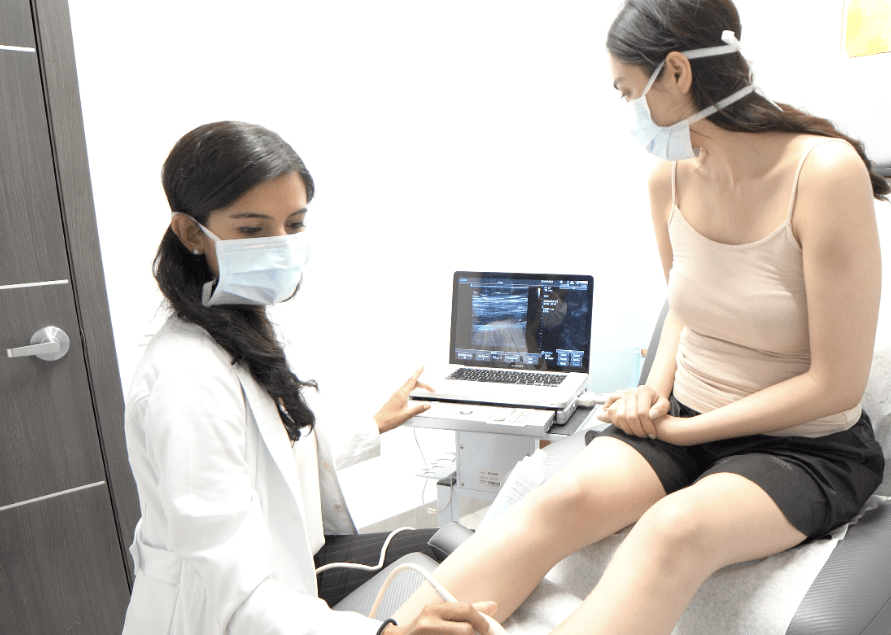 Dr. Caroline Novak
Dr. Caroline Novak is an incredibly compassionate, friendly, and talented vein doctor with a flawless track record. She specializes in internal medicine and venous medicine and has graduated with honors from the prestigious University of Chicago. She attended the University of Illinois Medical School, following which she completed a residency at one of the nations' top programs, Northwestern Memorial Hospital in Chicago. Patients often fly over from across the country to consult with her.
Dr. Kamran Saraf
Dr. Kamran Saraf is an exceptional vein doctor specializing in venous medicine. He graduated with honors from the University of Maryland with a bachelor's degree in Neurophysiology, following which he obtained a master's degree from Georgetown University. He also completed his General Surgery training at Texas Medical Center, the largest medical facility in the world. Dr. Saraf curates highly personalized vein treatment plans to address each patient's unique needs and concerns.
Our unique minimally invasive varicose vein treatment process ensures long-term relief.
Vein Treatment Clinic maintains a perfect 5-star track record because of a unique minimally invasive varicose vein treatment process. We avoid surgeries because they're needlessly complicated, risky, and involve downtime. And we always investigate the root cause of your vein problems to curate the ideal treatment plan for your unique needs. The following is a step-by-step overview of our varicose vein treatment process.
Step 1: Initial Consultation
Your initial consultation starts with a discussion of your concerns, symptoms, and goals. The vein doctor asks relevant questions about your medical history and how you're feeling. They also examine your varicose veins and spider veins to identify other signs and symptoms of vein disease, such as swollen legs, restless legs, leg cramps, etc. Finally, the vein doctor administers an advanced vascular imaging test called duplex ultrasound to visualize the blood flow in your leg veins and diagnose the underlying venous insufficiency.
Step 2: Treatment Plan
If you have underlying venous insufficiency, the vein doctor will recommend one of the following treatments — radiofrequency ablation, endovenous laser ablation, and VenaSeal. If you don't have underlying vein disease, the vein expert will recommend ambulatory phlebectomy or sclerotherapy. We curate the treatment plan in close consultation with you, highlighting the pros/cons of all your treatment options. We also discuss your insurance coverage options to help you make an informed choice.
Step 3: Primary Treatment
The primary treatment involves addressing the underlying diseased vein responsible for your varicose veins and spider veins. The vein doctor uses thermal energy, laser energy, or medical adhesives to fuse the diseased vein's walls, rerouting the accumulated blood to healthier leg veins. The diseased vein gradually gets absorbed by the body. This is the primary vein treatment, only necessary for people with underlying venous insufficiency.
Step 4: Secondary Treatment
The secondary treatment involves removing the superficial varicose veins and spider veins from the skin's surface. The vein doctor injects sclerosant into the spider veins (sclerotherapy) or removes the superficial varicose veins through incisions on the skin's surface (ambulatory phlebectomy). These treatments remove the superficial varicose veins and spider veins without addressing the underlying venous insufficiency, so they're widely considered cosmetic procedures.
Step 5: Recovery
Minimally invasive vein treatments don't involve any downtime or extended recovery period. You can leave the vein clinic and resume your daily activities immediately, though you'll have to follow some post-treatment recovery guidelines, such as wearing compression stockings and avoiding strenuous workouts for a few days. Your vein doctor will highlight all your recovery guidelines before you leave the vein center.
To learn more about our accredited vein centers, please visit www.veintreatmentclinic.com. Our spider and varicose vein treatment clinics are certified by the IAC as vascular imaging centers and vein treatment centers of excellence. We have local affiliates in New York, Long Island, New Jersey, Texas and California, all of which are held to the highest standards of patient-centered, compassionate, care. We offer the latest technology at every location, and our harvard-trained medical directors lead a collaborative effort to ensure the best outcome for every patient we meet.
Book a Consultation
Scheduling a consultation with one of our vein treatment experts is one of the best ways to determine the proper resolution for your varicose veins. The treatments can include sclerotherapy, laser or radiofrequency ablation, a medication called Varithena, or procedures such as Venaseal, or Clarivein.
Meet our diplomat-certified team
VENOUS SPECIALIST | Harvard Medical School
Dr. Michael Nguyen is a world renowned and Harvard trained vein specialist in Manhattan. He leads the team of vein doctors offering the highest level of care at the Spider and Varicose Vein Treatment Center in New York & New Jersey.
As a pioneer in the treatment of varicose veins problems, Dr. Nguyen is considered a top vein expert for developing minimally invasive and customized treatment plans for the many symptoms of venous insufficiency, including leg cramps, skin discoloration on legs, spider vein removal, and restless leg syndrome.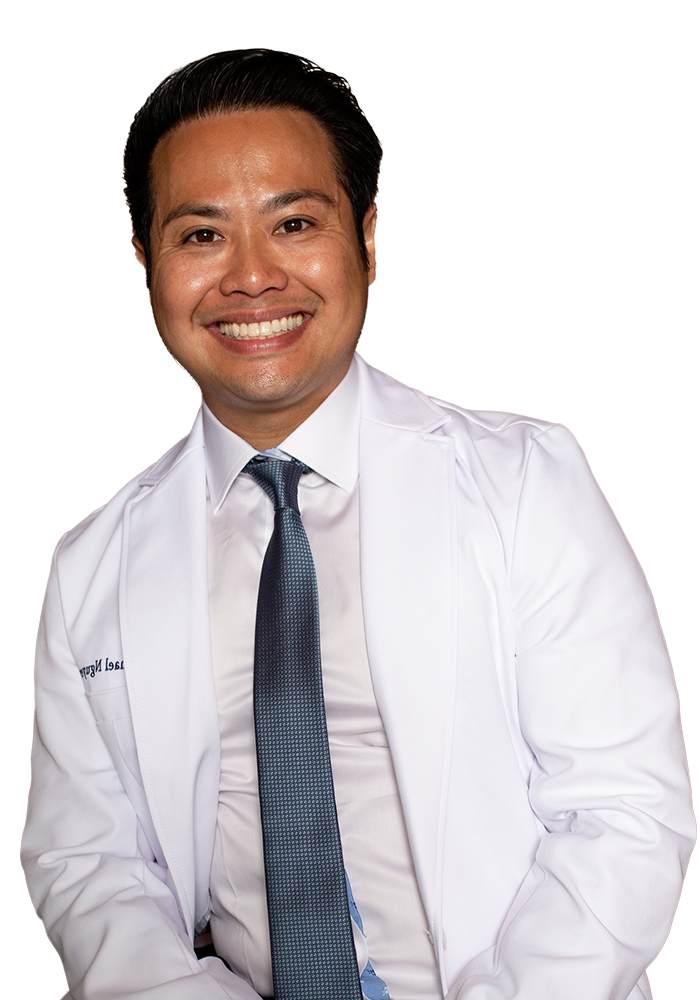 We know health insurance is confusing so we will help you check if you're covered:
TAKE A PERSONAL LOOK AT OUR CLINIC via
Instagram
What's the Best Varicose Vein Center in LI?