Where Can I Find a Top Varicose Vein Doctor in NJ? A Leading Medical Center Answers This Question.
It is easy to search online for a varicose vein doctor in NJ. But how do you sort through the number of results that pop up? We give you a list of three questions to ask yourself when you look at each vein doctor's profile. 
Varicose Vein Doctor in NJ: Are the credentials in order? 
Is your vein doctor at your preferred vein clinic adequately qualified to treat varicose veins? An important way to assess this is to look at your doctor's training and credentials. Doctors who have had special training in vascular medicine or vein medicine are likely to be more knowledgeable than their peers on the subject. It is also important to choose a vein physician who has been board certified as an expert in their chosen field.
How much experience and expertise does the vein doctor have? 
Is your vein doctor exclusively focused on vein disease? Have they been treating patients for many years? Focus and experience tend to add to a vein doctor's skill, and reduce their chances of making errors.
What do previous patients have to say about your varicose vein doctor in NJ?
Certain critical factors cannot be assessed by merely looking at the vein doctor's profile. For instance, does the vein doctor have a pleasing bedside manner? Is he or she willing to listen to all your concerns, and address your queries in detail? Are they asking you the right kind of questions? Would you feel comfortable in their presence, rather than intimidated? These are questions that can only be answered by looking at other patient experiences. Several neutral websites offer genuine patient feedback, and it might be worth taking a look at these before you select your varicose vein doctor.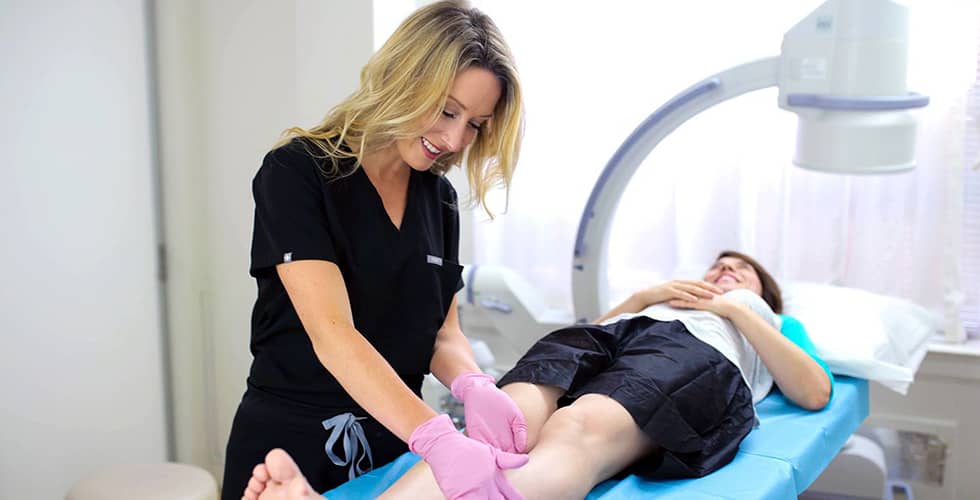 Does your vein doctor have a holistic view to treating varicose veins?
Varicose veins are just unsightly, visible veins on your legs and thigh – but they could be hiding deeper, underlying vein problems. You would want to visit a vein doctor who treats your body as a whole, not just the problems on the surface. How do you know they would do this? A vein clinic's website or blog usually gives a pretty good indicator of the vein doctor's approach to treating vein problems. Patient reviews can also be helpful in this regard – if the vein doctor is asking appropriate questions, or ordering necessary tests, these indicate that your vein doctor is digging deeper to find out the root cause of your problems.
Does your vein doctor offer minimally invasive vein treatment? 
Even today, some vein clinics are happy to offer surgical vein removal as the primary treatment option for varicose veins. This is relatively easy to perform and does not require the use of advanced imaging technology. However, having vein removal surgery can be a painful process – both during and after the procedure. You may require a hospital admission, and will need advanced anesthesia during the procedure. After the procedure, you will need at least two to three weeks of rest before you go back to your routine. Minimally invasive vein treatment, on the other hand, has several advantages:
The only anesthesia you will need is a simple numbing injection
Side effects like pain and leg swelling are minimal
No down time is needed – you can go to work immediately after!
Consult with the nation's leading vein specialists when you visit Vein Treatment Clinic in NJ
At the Vein Treatment Clinic in NJ, we have on board two experienced, highly qualified vein specialists.
Dr. Todd Kobrinsky is double board certified in Internal medicine as well as Cardiovascular Medicine. A widely published cardiovascular expert, Dr. Kobrinsky is extremely knowledgeable about the latest techniques used for minimally invasive treatment of varicose veins and spider veins. Dr. Kobrinsky believes in taking his time with each patient, which allows him to create a tailored treatment plan for each individual.
Dr. Sareh Rajaee is a Yale-trained vascular surgeon, and she has extensive experience in diagnosing and treating diseases of arteries and veins. She is kind and compassionate, and is deeply committed to patient advocacy.
Vein Treatment Clinic: Two convenient locations in Northern New Jersey!
The Vein Treatment Clinic is a premier medical center dedicated to treatment of all vein conditions. At all our locations across the country, we offer minimally invasive vein treatment at the hands of experienced and skilled vein specialists. Since we have the latest technology and resources available, we are able to offer state of the art treatment options for both varicose veins and spider veins.
In New Jersey, VTC has vein centers in two key locations. Our Clifton vein center is located on Route 46-E, just past a prominent Ford dealership. In Paramus, our vein center is located very near two important shopping malls – the Paramus Park Mall and the Garden State Plaza. Both our vein centers are easily accessible by road, and you do not have to worry about parking – we have plenty of space!
If you would like to schedule a consultation with one of our vein specialists in New Jersey, you can book an appointment online, or call 973-310-2646 or 201-273-9695.
Book a Consultation
Scheduling a consultation with one of our vein treatment experts is one of the best ways to determine the proper resolution for your varicose veins. The treatments can include sclerotherapy, laser or radiofrequency ablation, a medication called Varithena, or procedures such as Venaseal, or Clarivein.
Meet our Vein Specialists
Venous specialist | Harvard Medical School
Dr. Khimani is a nationally recognized leader in the field of venous medicine. She is an expert in Spider Vein and Varicose Vein Treatment based in New York City. While Dr. Khimani treats a variety of patients experiencing varicose vein problems, she also sub-specializes in the treatment of vein disease in women, including those with pregnancy and post-pregnancy related spider and varicose veins.
If you have varicose veins and spider veins, suffer from leg cramps, leg swelling, or restless leg syndrome, come see Dr. Khimani at our Vein Treatment Center NYC. Most procedures are covered by major medical insurances, including Medicare. Call us and get verified today.
We know health insurance is confusing so we will help you check if you're covered:
By emailing or contacting us, you are accepting the inherent privacy limitations of online communication. For more information, please read our Digital Communications document. Please respond "STOP" to any text messages to opt out.
TAKE A PERSONAL LOOK AT OUR CLINIC via
Instagram
Where Can I Find a Top Varicose Vein Doctor in NJ? A Leading Medical Center Answers This Question.
ultima modifica:
2020-09-26T13:29:10-04:00
da