How do I choose a varicose vein treatment clinic near me? A top vein doctor guides you!
Searching for 'varicose vein treatment clinic near me'? First, compile a list of things to verify!
If you are seeking treatment for varicose veins, the first place you look is on the internet. Once you go online and search for 'varicose vein treatment clinic near me' you will be flooded with results! So, before you actually go ahead and do that, you should know what exactly you are looking for in a vein clinic. Luckily, we have compiled a list of things you should verify against each of your search results.
'Varicose vein treatment clinic near me': Does the vein center screen for chronic venous insufficiency?
A competent vein clinic always gets to the root of the problem before attempting to fix your varicose veins. Varicose veins are usually caused by an underlying problem called chronic venous insufficiency. This is a condition where the larger veins of your leg become diseased, and fail to transport blood back to the heart properly. Because blood is not getting back to the heart, it stays in the legs, and the excess blood backs up to the smaller veins, increasing the pressure in them. This causes smaller veins to bulge out underneath your skin as varicose veins. So, when you notice a small bulging varicose vein on your leg, remember that the actual problem probably lies in a much larger vein, and that is what needs to be fixed.
When you choose a vein center, verify that they will be screening you for chronic venous insufficiency. Vein specialists usually do this by using a duplex ultrasound, which allows them to see the pattern of blood flow in your legs. Once this is done, the vein doctor will have a better idea of where the actual problem lies, and your treatment will have a better chance of success.
Varicose vein center near me: How well trained are the doctors at the vein clinic?
It is important to choose doctors who are experts in what they do. Check your vein doctor's bio to find out where they studied and what kind of credentials they have. Doctors who are board certified physicians, and who have trained at premier medical schools usually have an edge over other vein doctors. Some vein doctors have special certifications from the American Board of Vein Medicine – this is a badge of expertise, which shows that they have had massive experience in performing procedures for varicose and spider veins.
'Varicose vein treatment center near me': What kind of treatment should the vein clinic be offering?
There are two options for varicose vein treatment – vein surgery or minimally invasive treatment. Surgery – which involves varicose vein stripping and removal, is outdated and risky, and most reputed vein clinics will only offer minimally invasive procedures. The goal of minimally invasive treatment is to seal off the defective vein from within, so that blood can no longer flow through it to get to the heart. The blood then finds an alternate route, through other, healthier veins, so it does not collect in the legs. The pressure on your leg veins is relieved, and this relieves painful symptoms, and allows the bulging varicose veins to subside and eventually disappear.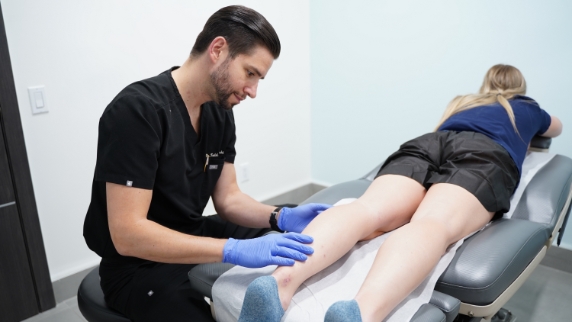 An advanced vein clinic will offer the following minimally invasive treatment procedures:
Radiofrequency ablation: A catheter is advanced into the diseased vein, and radiofrequency waves are delivered through it. This heats the veins from within, which causes the vein walls to melt, scar and seal off.
VenaSeal: This is a state of the art technique that uses medical grade superglue to stop up the defective vein. The procedure is extremely simple, and just involves a single injection.
Endovenous laser ablation: This uses laser energy instead of radiofrequency waves to heat up the veins.
Sclerotherapy: This can only be used for really tiny veins like spider veins. A medicated solution, called sclerosant is injected into the veins. The solution makes the walls of the veins stick to each other.
ClariVein: This is a recent, FDA approved method that adapts sclerotherapy for use in larger veins. This involves advancing a catheter with a rotating head into your vein. Through the rotating head, sclerosant can be dispersed throughout the large vein, in all directions.
Varithena: This uses a sclerosant that is foam based, and can spread over a larger area than the conventional sclerosant. It is used for larger spider veins, and smaller varicose veins.
'Varicose vein treatment near me': Find out about the payment options!
 Most of the above treatment options can be expensive – but not if you have insurance coverage. Ensure that you choose a vein clinic which accepts the kind of insurance you carry. Most vein clinics will be happy to verify this for you over the phone, before you schedule an appointment!
The Vein Treatment Clinic: Find quality varicose vein treatment near you!
The Vein Treatment Clinic, one of the leading vein clinics in USA offers top quality treatment for varicose veins and spider veins. Our nationally acclaimed vein doctors are experts in performing advanced minimally invasive procedures. With locations all across the country, you are sure to find a vein center that is close to you! At VTC, we accept all major insurance, including Medicare.
To schedule a consultation with one of our top vein doctors, you can book an appointment online, or call 855-699-2004.
To learn more about our accredited vein centers, please visit www.veintreatmentclinic.com. Our spider and varicose vein treatment clinics are certified by the IAC as vascular imaging centers and vein treatment centers of excellence. We have local affiliates in New York, Long Island, New Jersey, Texas and California, all of which are held to the highest standards of patient-centered, compassionate, care. We offer the latest technology at every location, and our harvard-trained medical directors lead a collaborative effort to ensure the best outcome for every patient we meet.
Book a Consultation
Scheduling a consultation with one of our vein treatment experts is one of the best ways to determine the proper resolution for your varicose veins. The treatments can include sclerotherapy, laser or radiofrequency ablation, a medication called Varithena, or procedures such as Venaseal, or Clarivein.
We are one of the top spider vein and varicose vein treatment centers in the Nation, offering the latest treatments and the most state of the art technology. Our vein treatment center sources the best vein doctors and specialists from around the world.
Covered by most insurances, including Medicare.
Enter your information below to get started
By emailing us or contacting us via web form, you are accepting the inherent privacy limitations of online communication. For more information about internet privacy, please read our Communication by Email/Text document. Please respond "stop" to text messages to opt out.
How do I choose a varicose vein treatment clinic near me? A top vein doctor guides you!