What Kind of Vein Doctor Must I Choose for Varicose Vein Treatment in Texas? A Top Medical Center Answers.
A vein doctor can be trained in any branch of medicine 
Technically, any qualified physician can treat varicose veins, not just a vascular surgeon. It is common to see doctors of different specialities trained in vein medicine, including internal medicine specialists, general, cardiovascular or plastic surgeons, and even anesthesiologists. The bottom line is – the field of specialization does not matter, as long as the doctor at your vein clinic has enough experience in performing vein treatment procedures.
You can find out about the vein doctor's expertise by looking at his credentials 
If the field of specialization does not matter, what does? Well, you can judge a vein doctor's skill and knowledge by taking a look at his credentials. Here are a few things worth looking for:
Is the vein doctor board certified in his field?
Has he trained at a good medical school? Completed a good residency program?
How many years of experience does the vein doctor have?
What do individual patient reviews have to say?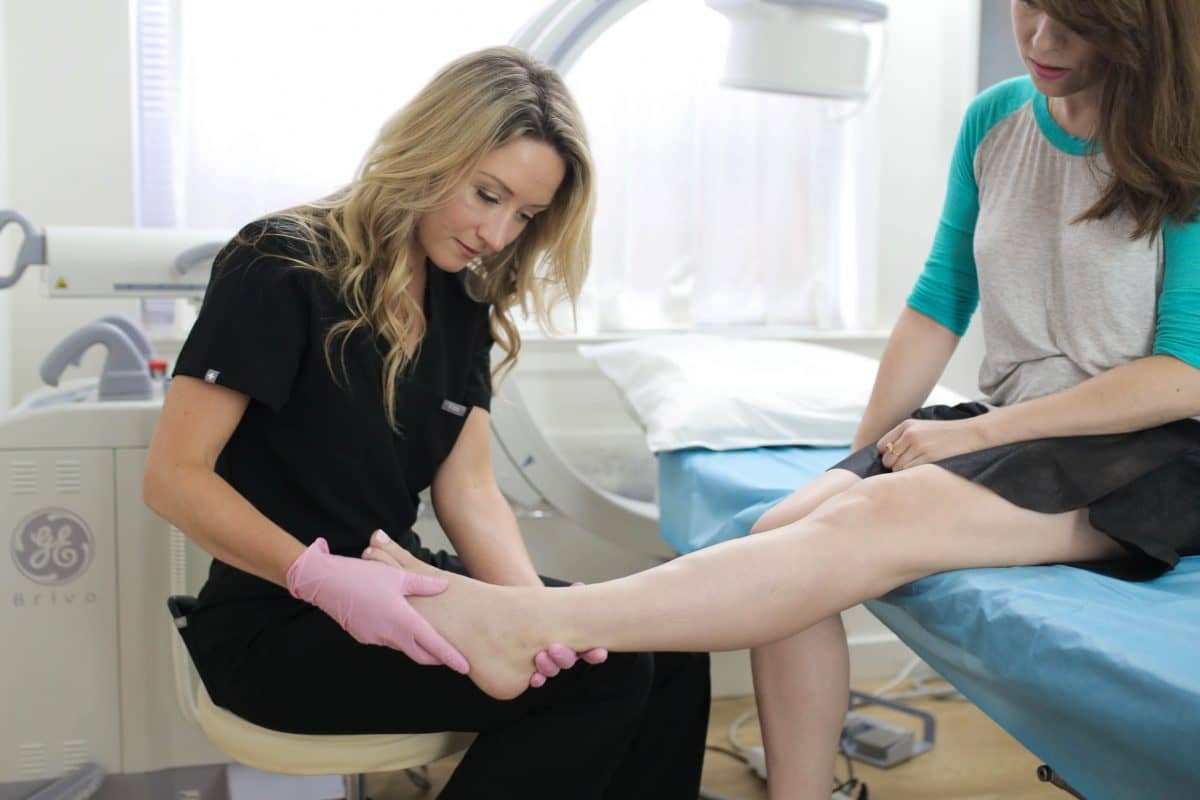 Choose a vein doctor who focuses on the bigger picture. 
When you look at a vein doctor's bio, find out what his disease focus is. Does the vein doctor only focus on curing varicose veins and spider veins from a cosmetic standpoint? Or does he talk about vein disease, and factors that can cause varicose and spider veins? It is important to look for a vein doctor who will address the cause of your vein problems by looking at the big picture. This will ensure that your treatment is successful and permanent.
Choose a vein doctor who primarily practices minimally invasive vein treatment 
Some vein doctors still choose to practice vascular surgery, where the defective vein is physically removed from the body. This is an invasive procedure requiring advanced anesthesia, and may even necessitate a hospital admission. On the other hand, minimally invasive treatment options do not need surgery – the defective vein alone is accessed through a small skin puncture, and treatment is performed from within the vein. The entire procedure is indirectly visualized by the vein doctor on a real-time ultrasound.
The advantages of minimally invasive treatment options over traditional vascular surgery 
With minimally invasive varicose vein treatment, you have the following advantages:
All you need for anesthesia is a simple numbing injection
The procedure can be performed in an outpatient clinic, where you only need to arrive just before the procedure
The actual procedure takes less than an hour
You do not need any recovery time – you can return to your normal routine almost immediately
Side effects such as swelling and pain are minimal.
There are several methods for minimally invasive vein treatment:
Radiofrequency ablation: In this method, radiofrequency waves are delivered into the vein through a catheter. These waves generate heat, which causes the vein walls to melt. The melted vein walls swell, stick together and scar, sealing off the vein.
Endovenous laser ablation: In this technique, laser energy generated from a laser device is delivered into the vein. This also generates heat similar to radiofrequency ablation.however, the temperatures reached are much higher, and the overall process can be slightly more intense as compared to radiofrequency ablation.
VenaSeal: This technique uses glue to seal off the vein. Through the catheter, drops of medical grade glue are delivered throughout the length of the vein. The vein doctor applies pressure from the outside for a few minutes, during which the glue hardens. After this, the vein is permanently sealed off.
ClariVein: In this method, a medicated solution called sclerosant is used. This irritates the vein walls, making them sticky and adhere to each other. In ClariVein, a catheter with a rotating tip is used to deliver sclerosant throughout the length of the vein, in all directions.
Varithena: Varithena is similar to ClariVein, except that the sclerosant is directly injected into the vein, rather than being delivered through a catheter. The sclerosant is usually foam based, so that it can naturally spread out over a wider area. This is used for smaller residual veins, after one of the above procedures is already done. 
Dr. Calvin Jung, director of our vein center in Texas, is one of the leading vein doctors in the area. Trained and board certified in cosmetic surgery, Dr. Jung is extremely detail oriented. He ensures that after varicose vein treatment, not only will you be symptom free, your legs will look great as well! Our patients best relate to the way he puts them at ease – he is known for his unique sense of humor!
In Texas, our vein center is located in Houston, near a famous shopping mall called the Galleria. You can schedule a consultation with Dr. Jung at Texas by calling 281-747-8632, or simply book an appointment online for any of our locations!
Book a Consultation
Scheduling a consultation with one of our vein treatment experts is one of the best ways to determine the proper resolution for your varicose veins. The treatments can include sclerotherapy, laser or radiofrequency ablation, a medication called Varithena, or procedures such as Venaseal, or Clarivein.
Meet our Vein Specialists
Venous specialist | Harvard Medical School
Dr. Khimani is a nationally recognized leader in the field of venous medicine. She is an expert in Spider Vein and Varicose Vein Treatment based in New York City. While Dr. Khimani treats a variety of patients experiencing varicose vein problems, she also sub-specializes in the treatment of vein disease in women, including those with pregnancy and post-pregnancy related spider and varicose veins.
If you have varicose veins and spider veins, suffer from leg cramps, leg swelling, or restless leg syndrome, come see Dr. Khimani at our Vein Treatment Center NYC. Most procedures are covered by major medical insurances, including Medicare. Call us and get verified today.
We know health insurance is confusing so we will help you check if you're covered:
By emailing or contacting us, you are accepting the inherent privacy limitations of online communication. For more information, please read our Digital Communications document. Please respond "STOP" to any text messages to opt out.
TAKE A PERSONAL LOOK AT OUR CLINIC via
Instagram
What Kind of Vein Doctor Must I Choose for Varicose Vein Treatment in Texas? A Top Medical Center Answers.
ultima modifica:
2020-10-01T13:11:19-04:00
da