Choose minimally invasive spider or varicose vein treatment in Houston!
Most vein specialists today in modern vein clinics use only minimally invasive treatment for various vein conditions. But what is minimally invasive vein treatment? Unlike surgery, in which vein doctors 'cut open' your skin to get a good look at the veins underneath, minimally invasive treatment only needs a small skin puncture – almost like a regular injection. Through this puncture, the vein physician inserts a flexible tube, called a catheter into the vein. The catheter is used to manipulate the vein from within. Yes, the vein doctor cannot actually see your vein; treatment is usually performed by visualizing the vein on an imaging screen.
What about varicose vein removal, or spider vein removal in Houston? 
Most patients wonder whether minimally invasive treatment would be effective at all.  Don't vein doctors advocate removing the vein altogether? Yes, ideally, for your painful symptoms to go away, and to avoid recurrence, the vein must go, However, physically removing the vein is not the only way to do this! In minimally invasive procedures, the treatment aims at sealing off the defective vein, so that blood can no longer flow through it. Once the vein can no longer transport blood, it becomes non-functional. The non-functional vein is as good as non-existent; over time smaller veins even get digested by the body. Minimally invasive vein treatment is much more comfortable and convenient as compared to vein removal. It can be done using a small numbing injection – advanced anesthesia is not required. The entire procedure is complete in less than an hour. With minimally invasive treatment, you will not need any recovery time, unlike surgery, where you will need to rest for at least a couple of weeks.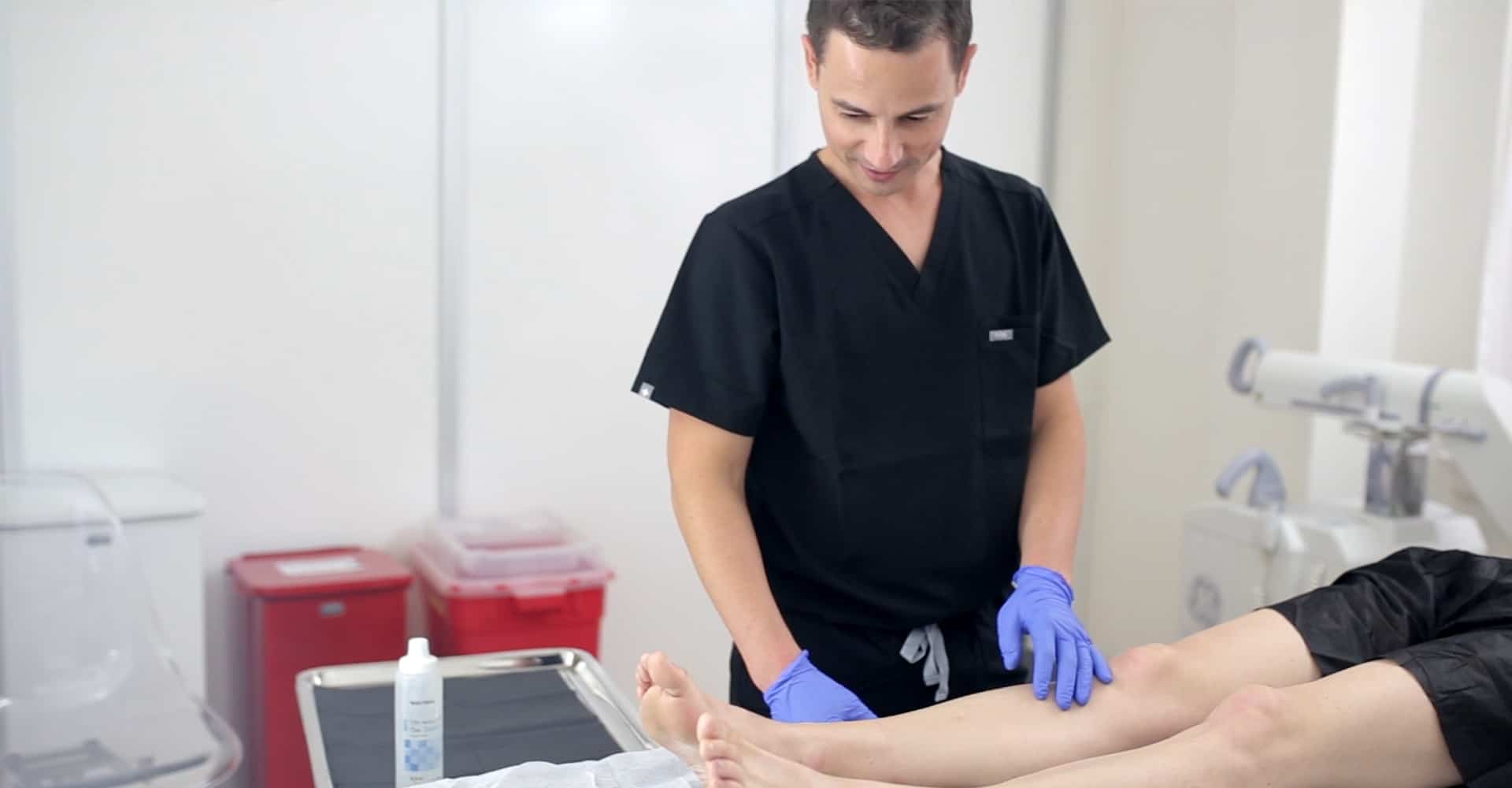 Best options for varicose veins at any vein clinic in Houston, Texas 
Varicose veins treatment involves treating not only the smaller, visible varicose veins, but also the larger defective parent veins, from which these veins arise. The following methods are the most effective:
Radiofrequency ablation: Radiofrequency waves are generated from a device, and transferred to the inside of the vein through a catheter. These waves generate heat, which causes the vein walls to swell up, scar and stick together.
VenaSeal: This technique used medical grade glue. The glue is delivered through the catheter to the inside of the vein, and external pressure is applied on the vein for a few minutes, till the glue hardens. The vein walls are glued together, sealing off the vein.
Endovenous laser ablation: Laser energy is delivered to the inside of the vein. This also generates heat, which seals off the vein through scarring.
Clarivein and Varithena: These techniques use chemical solutions that cause the vein walls to become sticky and adhere together. In Clarivein, the catheter used generally has a rotating head, which allows the solution to get dispersed throughout larger veins. Varithena uses a foam based solution, which gets dispersed on its own through medium sized veins.  
Best options for spider vein treatment in Houston
For treatment of smaller spider veins, most vein physicians recommend sclerotherapy. This technique uses a liquid solution called sclerosant, which is delivered into the veins through micro-sized needles. The sclerosant allows the vein walls to stick together and seal off.
Be aware that sclerotherapy alone may not be eligible for coverage through your insurance plans. However, if you have been diagnosed with chronic venous insufficiency, the treatment plan will include sclerotherapy to get rid of spider veins – some plans will cover treatment in this case. 
Ultimately, the best method of vein treatment should be a joint decision made by you and your vein doctor. 
While the above techniques are the most effective ones for vein treatment, it must be remembered that each patient is unique. Your medical history, current health, and the type of vein problems that you have all play a role in selecting the right kind of treatment that would suit your needs. It is best to discuss all the possible options with your vein dr, so both of you can jointly work out which option would be the best for you.
Get vein treatment from a top vein specialist in Houston
The Vein Treatment Clinic in Houston provides advanced minimally invasive treatment options for both varicose veins and spider veins. In Houston, we have a renowned vein doctor, Dr. Calvin Jung. Trained in cosmetic surgery, Dr. Jung has a keen eye for detail, and he ensures that you get effective and esthetic results at the same time! His keen sense of humor makes our patients confortable, and his patient-oriented treatment plans ensure that you get the treatment that is most suited to your specific healthcare needs.
Our Vein Treatment Center in Houston, Texas, is in a convenient location, very near the Galleria, a famous shopping center. If you would like to schedule a consultation at this location, or with one of our other vein experts across the country, you can call 855-807-4936, or book an appointment online.
Book a Consultation
Scheduling a consultation with one of our vein treatment experts is one of the best ways to determine the proper resolution for your varicose veins. The treatments can include sclerotherapy, laser or radiofrequency ablation, a medication called Varithena, or procedures such as Venaseal, or Clarivein.
Meet our Vein Specialists
Venous specialist | Harvard Medical School
Dr. Khimani is a nationally recognized leader in the field of venous medicine. She is an expert in Spider Vein and Varicose Vein Treatment based in New York City. While Dr. Khimani treats a variety of patients experiencing varicose vein problems, she also sub-specializes in the treatment of vein disease in women, including those with pregnancy and post-pregnancy related spider and varicose veins.
If you have varicose veins and spider veins, suffer from leg cramps, leg swelling, or restless leg syndrome, come see Dr. Khimani at our Vein Treatment Center NYC. Most procedures are covered by major medical insurances, including Medicare. Call us and get verified today.
We know health insurance is confusing so we will help you check if you're covered:
By emailing or contacting us, you are accepting the inherent privacy limitations of online communication. For more information, please read our Digital Communications document. Please respond "STOP" to any text messages to opt out.
TAKE A PERSONAL LOOK AT OUR CLINIC via
Instagram
What Are the Best Vein Treatments Available at a Top Vein Center in Houston? An Experienced Vein Doctor Weighs In.
ultima modifica:
2020-08-16T04:48:11-04:00
da