Varicose Veins: Are They a Sign That I Need to Visit a Vein Center in NJ? A Top Vein Doctor Explains.
Varicose veins: What are they, and what causes them?
Varicose veins are one of the main reasons that people choose to visit a vein treatment center – one out of every four Americans has them. Varicose veins are enlarged, visible veins that usually occur on your legs or lower thighs. These appear as twisted or tortuous, rope-like structures that appear to bulge out from beneath the surface of the skin.
What causes varicose veins? To understand this, you would need to know about the way veins work. Veins usually transport blood from all parts of the body back to the heart. In the legs, the veins need to do this against gravity and to help with this, each vein contains tiny one-way doors called valves. Once the blood flows up past them, the valves shut. This prevents any blood from trickling back down to the legs.
Sometimes, these valves fail to work. This condition is called venous insufficiency. In venous insufficiency, blood accumulates in the leg veins, increasing pressure on the vein walls. This causes them to expand and distort, giving them the classic appearance of varicose veins. 
Symptoms associated with varicose veins and venous insufficiency
The pooling of blood in the lower legs can cause a lot of uncomfortable symptoms. The most common is leg pain – this can manifest as a throbbing ache that runs all along your legs. You may also feel that your feet are heavy, and your ankles well up after you have been on your feet for long periods of time. Sometimes, you may even experience painful leg cramps. Most of us tend to attribute these symptoms to ageing, but if you have visible varicose veins, chances are that they really stem from venous insufficiency.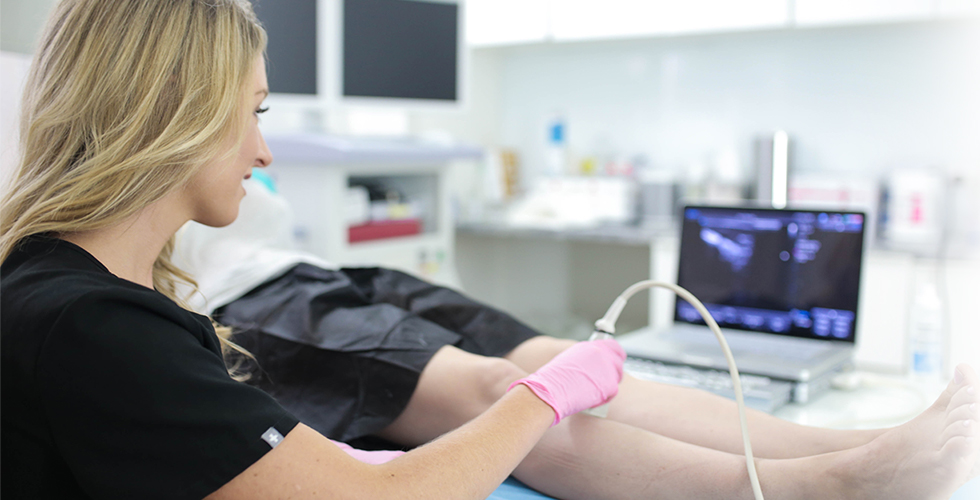 To treat varicose veins properly, you need to first address the larger veins with the defective valves, rather than the visible varicose veins. Modern vein clinics use minimally invasive vein treatment, rather than vascular surgery to address varicose veins and venous insufficiency. The vein doctor will identify the problematic veins using duplex ultrasound, and tailor your treatment plan accordingly
Treating the main defective vein:
The largest defective vein, (which in most cases is the saphenous vein in the thigh) is sealed off first. This may be done using one of the following methods:
Treating the residual veins: 
Once the main vein is sealed off, the blood finds alternate routes to the heart, and it no longer pools in the leg. This decreases vein pressure. However, some visible varicose veins and spider veins may persist because they are damaged beyond repair, and may need to be addressed separately. This is done by direct injections of a chemical called sclerosant into the vein. The sclerosant makes vein walls stick together and eventually shrink.
Varithena: This is used for medium sized veins, and employs a foam based sclerosant
Sclerotherapy: This uses a liquid sclerosant, and is meant to treat spider veins.
What happens if you don't visit a vein treatment center in NJ for your varicose veins? 
If your varicose veins do not really cause you any painful symptoms, you may think, 'Do I really need to visit a vein center near me?' The answer is, you probably should. Over time, the accumulated blood will break down, releasing chemicals that disfigure the overlying skin. It also prevents nutrients from reaching the skin, so if there is a skin wound, it won't heal properly, and may even ulcerate. Untreated varicose veins eventually become worse over time, and the skin can rupture if even minor trauma occurs, resulting in profuse bleeding. Therefore, it would be wise to treat them before these complications occur. 
The Vein Treatment Clinic, NJ: A leading vein center in Clifton, NJ is easily accessible near you! 
So if you have decided to get your vein problems treated, your next question might be – where can I find varicose and spider vein treatment near me? If you live in or near Clifton, New Jersey, the solution is simple. You can easily come to the Vein Treatment Clinic in New Jersey by road – our vein center has plenty of parking. We are located on route 46-E, just off NJ-3. Look for our clinic just past a Ford dealership!
A top vein doctor in Clifton, NJ can take care of your varicose vein treatment needs
 At the vein center in Clifton, you will be able to meet Dr. Sareh Rajaee – one of the leading vein specialists in New Jersey. A board certified vascular surgeon who rained at Yale, Dr. Rajaee has years of experience in treating vein and arterial disease. She is compassionate and kind, and believes in delivering patient centric care.
Our vein center also has branches in other convenient locations across the United States. To schedule a consultation with our leading vein specialists at one of these locations, you can call 855-807-4936, or book an appointment online.
Book a Consultation
Scheduling a consultation with one of our vein treatment experts is one of the best ways to determine the proper resolution for your varicose veins. The treatments can include sclerotherapy, laser or radiofrequency ablation, a medication called Varithena, or procedures such as Venaseal, or Clarivein.
Meet our Vein Specialists
Venous specialist | Harvard Medical School
Dr. Khimani is a nationally recognized leader in the field of venous medicine. She is an expert in Spider Vein and Varicose Vein Treatment based in New York City. While Dr. Khimani treats a variety of patients experiencing varicose vein problems, she also sub-specializes in the treatment of vein disease in women, including those with pregnancy and post-pregnancy related spider and varicose veins.
If you have varicose veins and spider veins, suffer from leg cramps, leg swelling, or restless leg syndrome, come see Dr. Khimani at our Vein Treatment Center NYC. Most procedures are covered by major medical insurances, including Medicare. Call us and get verified today.
We know health insurance is confusing so we will help you check if you're covered:
By emailing or contacting us, you are accepting the inherent privacy limitations of online communication. For more information, please read our Digital Communications document. Please respond "STOP" to any text messages to opt out.
TAKE A PERSONAL LOOK AT OUR CLINIC via
Instagram
Varicose Veins: Are They a Sign That I Need to Visit a Vein Center in NJ? A Top Vein Doctor Explains.
ultima modifica:
2020-09-01T13:44:21-04:00
da