Looking for a Top Vein Center in San Diego? The Experts at Our Medical Center Have You Covered!
Do you have bulging, twisted veins on your legs? Or blue-purple blemishes near your ankles? Do you have episodes of leg pain or swollen, heavy feet? Whatever vein problem you have, you would no doubt want the best, yet most convenient treatment for them. So, how do you achieve this?
At our Vein Center in San Diego, you can consult with some of the top specialists in San Diego for your varicose veins and spider veins.
Dr. Jasmine Koo: One of the leading doctors at VTC, Dr. Koo's field of specialization is diagnostic radiology. She is double board certified, and has also received specialized and rigorous training in minimally invasive vein treatment procedures. Dr. Koo is an expert diagnostician and has years of experience in managing vein conditions.
Dr. Billy Schoenfeld: Trained at Harvard, Dr. Schoenfeld is double board-certified in anesthesiology and critical care. He is highly experienced and skilled in diagnosing and managing vein conditions.
Both our varicose vein specialists believe in patient-centered, comprehensive care. You will find them kind and approachable, and they believe in putting your needs and concerns first.
At our San Diego varicose vein treatment center, receive holistic treatment for your vein condition.
Our vein specialists won't just address the vein problem on hand – they ensure that you receive holistic treatment for your vein problems. You see, most vein conditions are interrelated, and if you have one, there are high chances that you have others as well.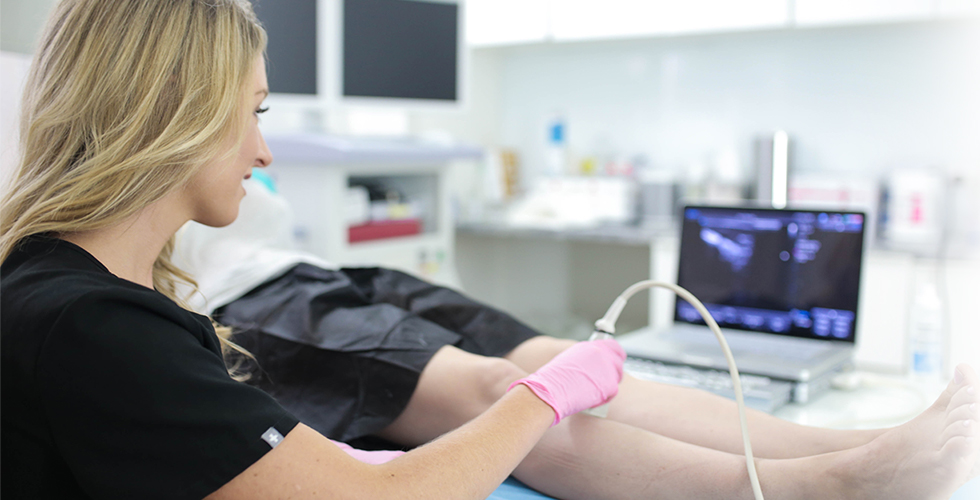 Most patients come in for treating their varicose veins or spider veins. Both these conditions arise from another common vein condition, called chronic venous insufficiency. Although you can see varicose veins and spider veins, these are not the only veins which are damaged. The damage begins at the level of much larger veins which run throughout the length of the leg – called saphenous veins. These veins usually drain blood from the legs, and send it back to the heart. When these veins are damaged, they cannot send blood back to the heart efficiently, and blood gets backed up into smaller veins. As a result, these smaller veins also get damaged under pressure, and this is what leads to visible veins. Visible veins may be bulging and twisted – these are varicose veins, or small bluish-purplish streaks beneath your skin – these are tinier spider veins.
As part of our holistic treatment plan, our vein specialists will usually see a duplex ultrasound to determine which of your veins are defective. Based on this, you usually receive a treatment plan that is tailored to suit your health needs.
Chronic venous insufficiency:
If you have chronic venous insufficiency, the vein doctor will use one of the following minimally invasive techniques to seal off the damaged saphenous vein:
Radiofrequency ablation: The skin is numbed, and the vein specialist inserts a catheter into the defective vein. Through the catheter, radiofrequency waves travel into the vein. This heats up the vein from within, which allows the vein walls to melt, scar and seal off the vein. There is a similar technique called endovenous laser ablation, which uses laser energy instead of heat. It can cause more procedural discomfort than radiofrequency waves, so wherever possible, we use the former.
VenaSeal: This is a state of the art technique that does not even require a numbing injection. Medical grade glue is injected into the vein. External pressure is applied, which allows the glue to harden inside the vein, sealing the vein walls together.
Clarivein: Another cutting edge technique which does not need a numbing injection. The catheter inserted into the vein has a rotating head. This allows it to disperse a liquid solution called sclerosant, throughout the vein in all directions. The sclerosant irritates the vein walls causing them to become swollen and sticky. The vein walls stick together, scar and seal off.
Varicose veins:
Treatment for chronic venous insufficiency can also address your varicose veins. For any residual veins, our vein doctors use a technique called Varithena. In this technique, foam based sclerosant, is injected into the vein. The foam disperses through the vein and irritates the vein walls, and makes them adhere together. This closes the vein.
Spider veins:
Spider veins may need to be treated separately; this is purely cosmetic, and if you have addressed venous insufficiency, they will not recur. Spider veins are usually treated using sclerotherapy. This technique uses micro-sized needles to inject liquid sclerosant directly into spider veins. The vein walls adhere to each other and the spider vein seals off, eventually disappearing altogether.
For the best of La Jolla Vein Care, schedule a consultation at with our vein specialist in San Diego today!
If you are wondering where to find 'varicose vein doctors near me', look no further! In San Diego, our vein treatment center is located in a beautiful neighborhood in La Jolla, near the Torrey Pines Beach State Park. We are also located close to the Westfield UTC Shopping Center. If you would like to schedule a consultation with our vein physicians at this location, all you have to do is book an appointment online, or call 855-807-4936.
Book a Consultation
Scheduling a consultation with one of our vein treatment experts is one of the best ways to determine the proper resolution for your varicose veins. The treatments can include sclerotherapy, laser or radiofrequency ablation, a medication called Varithena, or procedures such as Venaseal, or Clarivein.
Meet our Vein Specialists
Venous specialist | Harvard Medical School
Dr. Khimani is a nationally recognized leader in the field of venous medicine. She is an expert in Spider Vein and Varicose Vein Treatment based in New York City. While Dr. Khimani treats a variety of patients experiencing varicose vein problems, she also sub-specializes in the treatment of vein disease in women, including those with pregnancy and post-pregnancy related spider and varicose veins.
If you have varicose veins and spider veins, suffer from leg cramps, leg swelling, or restless leg syndrome, come see Dr. Khimani at our Vein Treatment Center NYC. Most procedures are covered by major medical insurances, including Medicare. Call us and get verified today.
We know health insurance is confusing so we will help you check if you're covered:
By emailing or contacting us, you are accepting the inherent privacy limitations of online communication. For more information, please read our Digital Communications document. Please respond "STOP" to any text messages to opt out.
TAKE A PERSONAL LOOK AT OUR CLINIC via
Instagram
Looking for a Top Vein Center in San Diego? The Experts at Our Medical Center Have You Covered!
ultima modifica:
2020-08-14T13:16:37-04:00
da