You know that you need to see a vein doctor if you have vein disease. But how can you recognize if you have a vein condition? Some of the commonest signs are given below!
Seeking treatment at a vein center in SD: If you have visible veins
The presence of abnormally visible veins is one of the top reasons people choose to visit a vein treatment center. These veins could be varicose veins, which appear as bulging, twisted ropes that occur on your leg and thigh; or they could be spider veins, which appear as delicate, bluish or purplish streaks that lie just beneath the surface of your skin. These are commonly seen in the lower half of the leg, usually clustered in the ankle region.
If you have painful symptoms in your legs or feet
Vein problems can cause improper drainage of blood from the legs, which can lead to an increase in the fluid content of your legs. This may cause your ankles and feet to swell up and hurt, and you may feel a throbbing pain that appears to run all along the length of your leg. You may also develop occasional leg cramps.
If the skin over your legs is discolored or broken.
With so much backed-up blood in your legs, the skin does not receive nutrition from fresh blood, and may instead be affected by toxins released from old blood. This may cause it to discolor, or develop a stiff, leather-like consistency. If you accidentally hurt yourself, even if it is a minor scrape, the skin may take longer than usual to heal. In some instances, the skin can even break down completely, leading to the formation of vein ulcers.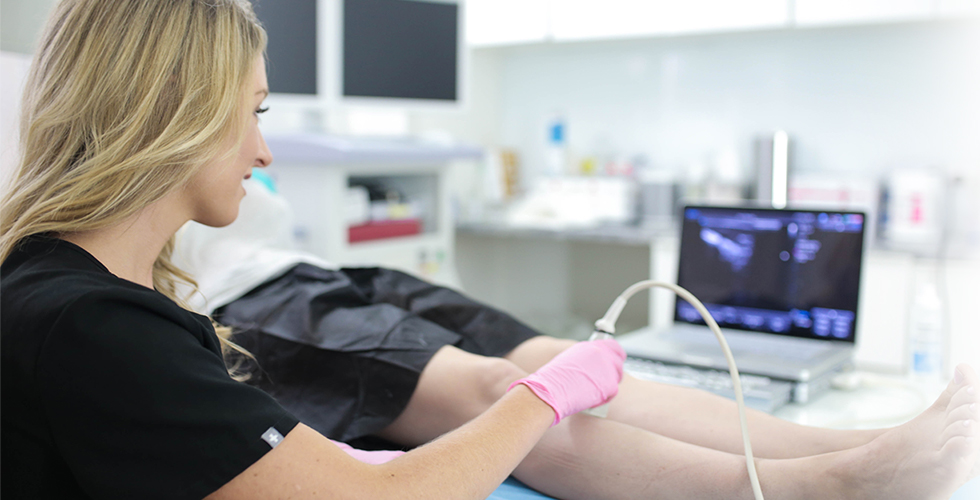 Today, most vein clinics offer minimally invasive treatment for varicose veins and spider veins.
These are state of the art treatment procedures that can be done in the outpatient clinic. No advanced anesthesia is needed, and at the most, you would need a numbing injection. These procedures are very quick – you can walk in, get the procedure done, and leave in less than two hours! You also do not need to have a period of recovery after this, and you can get back to your regular routine immediately after the procedure.
In varicose vein treatment, the defective vein is usually sealed off. Once blood can no longer flow through these veins, the pressure reduces, and the veins no longer bulge out. The blood finds other, healthier veins to make its way back to the heart. The following techniques are used for varicose vein treatment:
Radiofrequency ablation: Heat, delivered through radiofrequency waves, is used to seal the vein.
Endovenous laser ablation: Heat generated from laser energy is used.
VenaSeal: Medical grade glue is used to block up the vein.
Clarivein: A chemical solution, delivered through a catheter with a rotating head, is used to seal the vein.
Treatments for spider veins:
Spider veins are usually treated for cosmetic reasons, so the aim is to eliminate their appearance entirely. This is achieved by two methods:
Sclerotherapy: This is similar to Clarivein, except that instead of using a catheter, the chemical solution is directly injected into the tiny veins, using micro-sized needles. The solution makes the vein walls stick together, cutting off blood. Over a month's time, these veins are absorbed by the body and they disappear.
Laser treatment: This is preferred only if the veins are in a delicate area of the body, like the face. Laser light is delivers to the skin directly over the spider veins. The heat from this shrinks the veins. Unlike sclerotherapy, you will need at least three to four sessions to achieve comparable cosmetic results.
Vein Treatment Clinic: Get advanced treatment from top specialists at our Vein Center in SD! 
The Vein Treatment Clinic provides advanced and high-quality vein care at centers throughout the country. We have expert vein doctors, who have the knowledge and resources to accurately diagnose your vein condition, and we offer a wide range of minimally invasive treatment procedures to manage them. In San Diego, we have two renowned vein specialists who strongly believe in patient centered care, and are kind and approachable.
Dr. Jasmine Koo: Trained at Chicago Medical School, Dr. Koo is a double board certified physician who has undergone special training in the field of minimally invasive vein treatment. Her special expertise in medical imaging technology, combined with her vast experience enable her to deliver successful results.
Dr. Billy Schoenfeld: Dr. Schoenfeld is a Harvard trained anesthesiologist and critical care expert. He is highly experienced in the diagnosis and management of vein disease.
The Vein Treatment Clinic at San Diego is easy to locate, close to the Torrey Pines State Park. We are also very near the Westfield UTC Shopping Center. If you would like to schedule a consultation with one of our specialists at San Diego, you can book an appointment online, or call 855-807-4936.
Book a Consultation
Scheduling a consultation with one of our vein treatment experts is one of the best ways to determine the proper resolution for your varicose veins. The treatments can include sclerotherapy, laser or radiofrequency ablation, a medication called Varithena, or procedures such as Venaseal, or Clarivein.
Meet our Vein Specialists
Venous specialist | Harvard Medical School
Dr. Khimani is a nationally recognized leader in the field of venous medicine. She is an expert in Spider Vein and Varicose Vein Treatment based in New York City. While Dr. Khimani treats a variety of patients experiencing varicose vein problems, she also sub-specializes in the treatment of vein disease in women, including those with pregnancy and post-pregnancy related spider and varicose veins.
If you have varicose veins and spider veins, suffer from leg cramps, leg swelling, or restless leg syndrome, come see Dr. Khimani at our Vein Treatment Center NYC. Most procedures are covered by major medical insurances, including Medicare. Call us and get verified today.
We know health insurance is confusing so we will help you check if you're covered:
By emailing or contacting us, you are accepting the inherent privacy limitations of online communication. For more information, please read our Digital Communications document. Please respond "STOP" to any text messages to opt out.
TAKE A PERSONAL LOOK AT OUR CLINIC via
Instagram
When Should You Seek Treatment at a Vein Center in Sd? A Vein Doctor Answers.
ultima modifica:
2020-08-22T08:00:13-04:00
da