What are the top ten signs of vein disease? A vein specialist doctor answers.
Vein disease is a fairly common problem that affects at least half the American population. The most common vein condition for which you would seek treatment at a vein clinic is chronic venous insufficiency. Tis is a condition where the veins carrying blood back to your heart don't do their job properly – so the blood gets backed up in your legs. How do you know if you have this condition? Well, here are the ten top signs that show you need to visit a vein specialist doctor!
1. You have aching leg pain that interferes with daily living
When you have venous insufficiency, the backed up blood will compress on your vein walls, causing vein expansion and pain. Most people don't realize that they need to see a vein doctor for this, as the pain is non-specific. However, if the pain increases at the end of a long day, and I lesser in the mornings, it is probably time to visit a vein clinic.
2. Your legs suddenly 'give out' after you have been standing for long periods of time.
Have you ever felt like your legs will no longer work? Like they are so fatigued that they suddenly fail to support the weight of our body? This can happen in venous insufficiency. The backed up blood is impure, so your legs d not get the oxygen they need to support you. This is another sign that you need to go to a vein center and get checked out for vein disease.
3. Your notice swelling on one leg or ankle
 Most medical conditions that cause leg swelling tend to affect both legs. However, venous insufficiency may affect the veins of only one leg, and you may notice a visible swelling of that leg or ankle. Usually, the swelling subsides when you have had a chance to put your feet up for a while.
4. You can see that your veins are swollen, discolored and are bulging out beneath the skin
The excess blood puts pressure on the vein walls, and makes it expand and bulge. This may appear as knotted or twisted rope like structures beneath the skin. These expanded veins are called varicose veins. Varicose veins treatment are the main reason that most people actively seek out a vein treatment center.
5. You notice a cluster of purplish steaks near your ankle
The excess blood can cause damage to the smallest veins. These damaged veins are called spider veins, and they appear beneath the skin as interlacing bluish or purplish streaks. Spider veins can occur anywhere on your leg, but if they occur near your ankle, it is usually a sign of advanced vein disease.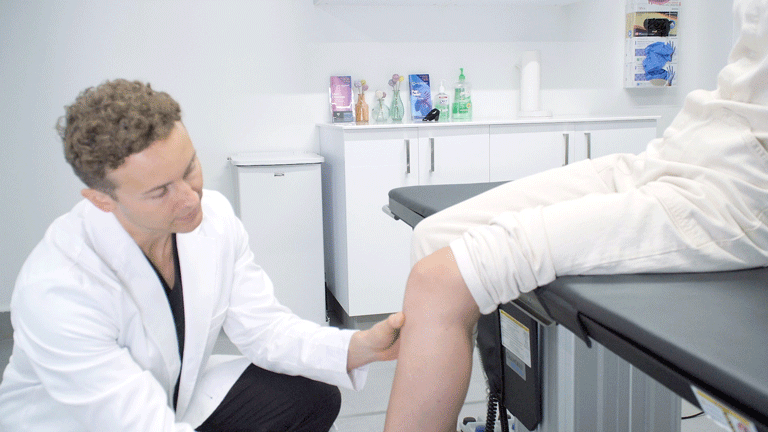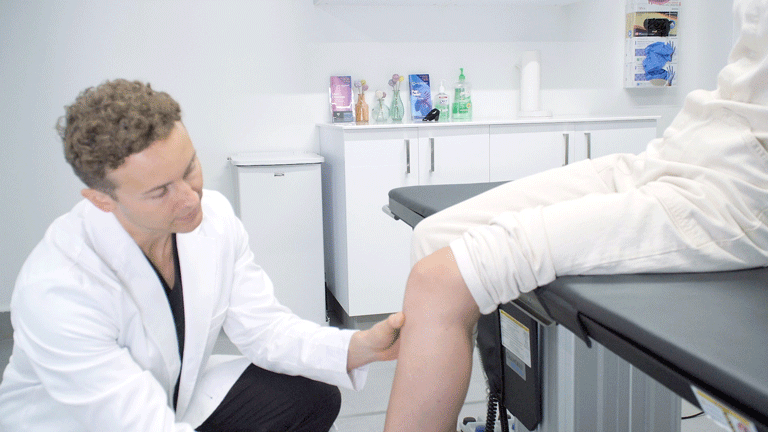 6. You sometimes develop leg cramps that are serious enough to wake you up at night
The vein blood is usually 'impure' because the vein's job is to carry waste products and gases back to the heart. When this impure blood collects in the leg, the waste products can release toxins that trigger leg cramps. These cramps are painful enough to wake you up from deep sleep, and can last for several minutes.
7. The skin over your leg veins is itchy and discolored
The same toxins build up just beneath your skin. They irritate your skin from beneath, and you skin takes on a beefy red discoloration.
8. Minor scrapes on your skin do not heal quickly
With the accumulation of impure blood and toxins, the skin of your legs does not get enough nutrition. So, when it gets hurt, it can't heal itself. You will notice that minor scratches or scrapes – which should usually disappear within a week, take a lot longer to heal.
9. You develop painful, non-healing ulcers on your legs
These are actually an extension of the above problem. When your wound does not heal, the skin sloughs off, and leaves behind nasty ulcers. Leg ulcers can also be caused by other medical conditions, such as diabetes. Your vein doctor will be able to run the necessary tests to determine the actual cause of the leg ulcers.
10. You noticed visible veins during your first pregnancy, and you are planning to get pregnant again.
Pregnancy can wreak havoc with your leg veins. Your growing uterus can physically compress the main veins, and prevent them from functioning. Hormones can cause your blood to move sluggishly, and can aggravate the problem.Venous insufficiency worsens with each pregnancy, so if you have noticed bulging varicose veins or spider veins during your first one, chances are that the problem will get worse for subsequent pregnancies. Plan for this by taking a trip to your nearest vein physician!
Looking for the best varicose vein doctor near you? Visit the Vein Treatment Clinic!
The Vein Treatment Clinic is a premier vein center that offers state of the art treatment for spider and varicose vein removal, in the form of minimally invasive procedures. The Vein doctors that you will meet at VTC are board certified physicians who have extensive experience in managing vein diseases like chronic venous insufficiency. VTC has vein centers in several locations across America, and you can choose the vein clinic that is most convenient for you.
To book an appointment with on of our vein specialists, you can book an appointment online, or call 855-982-9678.
To learn more about our team of accomplished vein doctors, please visit https://www.veintreatmentclinic.com/vein-doctor. Our physicians are board-certified vein experts, with compassionate bedside manner and impressive resumes. Most of our vein doctors trained at Ivy-league schools, and our harvard-trained medical directors hand picked each physician. We collaborate frequently across all locations to make sure each patient receives the highest standard of care. Visit our partner websites to learn about our vein specialists in New York, Long Island, New Jersey, Texas and California.
Book a Consultation
Scheduling a consultation with one of our vein treatment experts is one of the best ways to determine the proper resolution for your varicose veins. The treatments can include sclerotherapy, laser or radiofrequency ablation, a medication called Varithena, or procedures such as Venaseal, or Clarivein.
We are one of the top spider vein and varicose vein treatment centers in the Nation, offering the latest treatments and the most state of the art technology. Our vein treatment center sources the best vein doctors and specialists from around the world.
Covered by most insurances, including Medicare.
Enter your information below to get started
By emailing us or contacting us via web form, you are accepting the inherent privacy limitations of online communication. For more information about internet privacy, please read our Communication by Email/Text document. Please respond "stop" to text messages to opt out.
What are the top ten signs of vein disease? A vein specialist doctor answers.