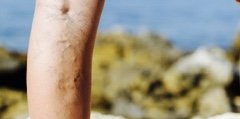 Varicose veins have the ability to show up at the surface where they stick out like a bulging and tortuous cord. But will these varicose vein go away on their own? Or Will they have to be injected?
The full Treatment
Sometimes the main source of the problem has to be treated first with the medical portion before surface can flatten and lighten and varicose veins start to disappear.
Diagnosed refluxing veins with ultrasound duplex can be treated by a vein specialist so reflux stops.
The easiest way of helping these bulging veins to disappear is by the use of minimally invasive techniques that are currently offered in the Vein Institute in New York and New Jersey. There are advanced methods, but not all the cases are the same and not everyone's case can be approached in the same way.
New York Vein expert Michael Nguyen who is Board Certified in Venous and Lymphatic Medicine recommends an initial evaluation with ultrasound imaging to decide the best approach and treatment plan for venous reflux and varicose veins.
Will These Varicose Vein Go Away On Their Own?
ultima modifica:
2017-12-07T16:04:13+00:00
da