Vein Treatment Clinic: Excellent Vein Treatment Available Across the USA Opens a Long Island Location.
Your search for a premier USA vein clinic on Long Island ends here.                                   
Vein Treatment Clinic, part of the VIP Medical Group, has just opened its doors to patients looking for vein care on Long Island! Here is what we have to offer to our clients:
Experienced and friendly vein doctors: At VTC we choose doctors based solely on merit. Our vein doctors have trained at some of the best medical schools in the nation, and are at the top of their game in treating vein diseases. In Long Island, you can consult with two highly experienced vein specialists

Caroline Novak: Dr. Novak has a certified diplomate from the American Board of Vein Medicine, and is also a certified expert in blood vessel imaging.
Todd Kobrinsky: Dr. Kobrinsky is a double board-certified physician who specializes in cardiovascular care.
State of the art treatment options: VTC offers the most advanced minimally invasive treatment options for varicose veins and spider veins. Apart from traditional minimally invasive treatment like radiofrequency ablation and sclerotherapy, we also offer cutting-edge treatment solutions like VenaSeal and ClariVein.
Personalized, one-on-one care: At VTC, we believe that each patient is unique. That is why we do not offer a one size fits all approach. When you schedule a consultation with our vein specialist, he or she will get to know you as a person, not just a patient. Your final treatment plan is usually based on more than just your medical history and current vein problem – we also consider what procedures you would be comfortable with, how busy your schedule is, any fears you might have, and even your current insurance plans!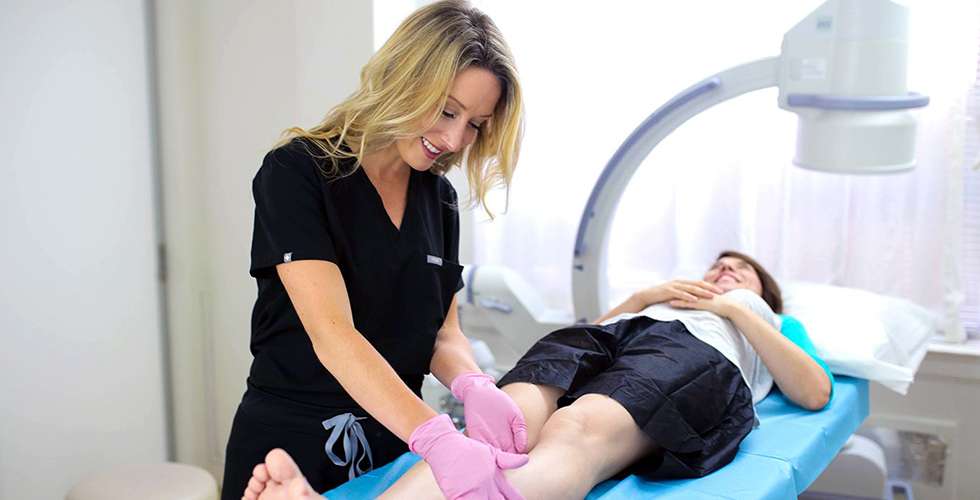 Learn more about vein diseases before you visit our vein doctor in Long Island.
 You know that you need to visit a vein specialist if you have varicose veins or spider veins. But what causes these vein conditions in the first place? Both varicose veins and spider veins form as a result of a deeper underlying vein condition, called chronic venous insufficiency.
Chronic venous insufficiency (CVS) is a condition that affects the large veins of the leg, called the saphenous veins. These veins need to transport blood from the legs all the way to the heart, against gravity. To help them with this process, the veins have tiny, one-way doors in them, called valves. When blood flows upwards past the valves, they shut tightly, so that blood cannot go back to the legs.
In CVS, these valves malfunction, which means they fail to close completely. This allows small amounts of blood to trickle back down into the legs. Over time, this causes the blood pressure in the leg veins to increase. The excess pressure causes smaller veins to distort, and their walls expand, giving the classic appearance of varicose veins. It also forces the formation of tiny damaged veins that appear as purplish or bluish streaks beneath the skin, called spider veins.
Do you really need to get those varicose veins or spider veins fixed? 
There are times when you really have no choice but to get your varicose veins treated – they may be causing you pain, and you may not be able to sleep without the discomfort of your throbbing leg veins. But what if they do not bother you at all? According to the experts, it is still a good idea to get your visible veins checked out by a reputed vein specialist – they will be able to tell you for sure whether or not you have venous insufficiency. If you do have CVS and varicose veins, you can develop some very nasty complications, like the following:
Painful symptoms: Even if you do not have pain at the moment, chances are that you will eventually. Over time, the increased pressure in the leg veins can cause severe throbbing pain. Your feet become heavy and swollen, and you may be disturbed from sleep with painful leg cramps.
Poor nutrition to your skin: Best case scenario, your skin develops a reddish hue and coarse, leathery consistency. Worst case scenario – if you injure your skin, even if it is a minor scrape, it may not heal adequately, and can develop into painful venous ulcers.
Medical emergencies: The expanded vein walls become fragile under pressure, so any injury could actually rupture the veins. This can result in profuse bleeding. The stagnated blood can also clot within the veins. If the blood clot travels through the deeper veins to the heart and lungs, it can cause breathlessness and chest pain. Both these are serious medical emergencies for which you would need to visit a hospital's emergency room at the earliest.
So, if you have visible veins, do not put off that visit to a vein center – have a vein physician look at your legs as soon as possible!
The Vein Treatment Clinic in Long Island is conveniently located on the Montauk highway, bordering Suffolk County. If you would like to schedule an appointment with one of our vein doctors, you can book an appointment online, or call 855-807-4936.
To learn more about our accredited vein centers, please visit www.veintreatmentclinic.com. Our spider and varicose vein treatment clinics are certified by the IAC as vascular imaging centers and vein treatment centers of excellence. We have local affiliates in New York, Long Island, New Jersey, Texas and California, all of which are held to the highest standards of patient-centered, compassionate, care. We offer the latest technology at every location, and our harvard-trained medical directors lead a collaborative effort to ensure the best outcome for every patient we meet.
Book a Consultation
Scheduling a consultation with one of our vein treatment experts is one of the best ways to determine the proper resolution for your varicose veins. The treatments can include sclerotherapy, laser or radiofrequency ablation, a medication called Varithena, or procedures such as Venaseal, or Clarivein.
We are one of the top spider vein and varicose vein treatment centers in the Nation, offering the latest treatments and the most state of the art technology. Our vein treatment center sources the best vein doctors and specialists from around the world.
Covered by most insurances, including Medicare.
Enter your information below to get started
By emailing us or contacting us via web form, you are accepting the inherent privacy limitations of online communication. For more information about internet privacy, please read our Communication by Email/Text document. Please respond "stop" to text messages to opt out.
Vein Treatment Clinic: Excellent Vein Treatment Available Across the USA Opens a Long Island Location