What Conditions Can I Visit a Varicose Vein Doctor for? A Top Vascular Surgeon Answers
Vein conditions are not as commonly discussed as other lifestyle diseases such as diabetes or high blood pressure; nevertheless, they are fairly common too! Varicose vein doctors usually treat a whole variety of conditions that stem from diseased or damaged leg veins. The five most common ones are listed below: 
1. Obviously, your varicose vein doctor can treat varicose veins
No surprises here: varicose veins are, of course, the commonest conditions treated by varicose vein doctors. These are basically twisted, bulging rope like structures that appear on the legs or thighs. 
2. Spider veins
The medical term for spider veins is telangiectasia. They are basically small bluish, red or purple streaks that become visible just beneath your skin. They can occur anywhere on the legs, but more common sites for spider veins include the back of the knee and the inside of the ankle. By themselves, they do not cause painful symptoms, but you may want to get them treated simply because they look unappealing.
3. Venous insufficiency
Venous insufficiency is a defect of the large veins of the legs, which fail to transport blood from the legs to the heart efficiently. People who have venous insufficiency may often have non-specific symptoms, such as leg pain, swelling of the ankles and feet, or discolored skin.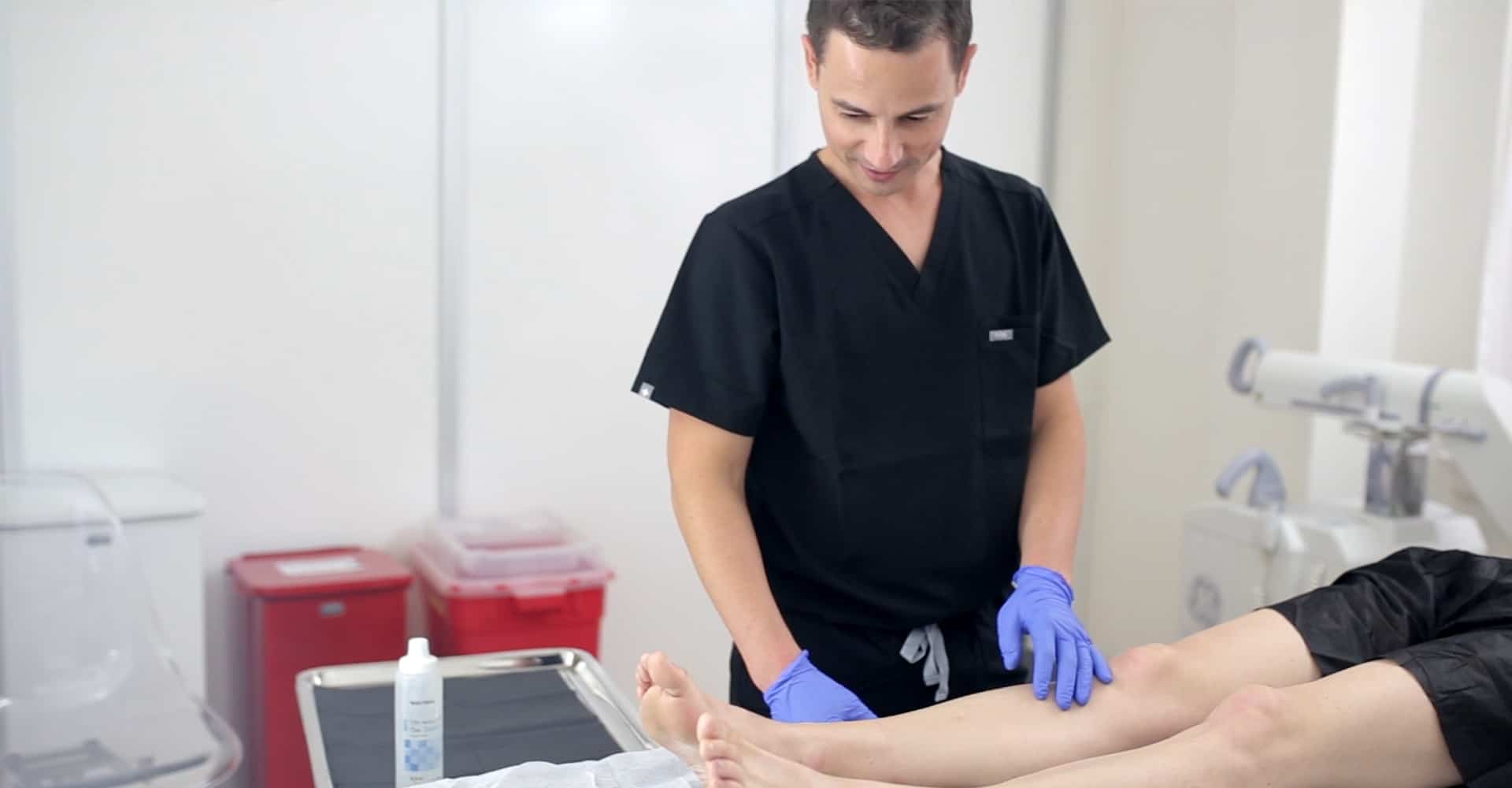 4. Leg cramps
Cramps are involuntary muscle spasms or contractions. When leg vein veins are diseased, the blood in them stagnates and may break down to release toxins that cause cramps. These cramps usually occur at rest, and can be severe enough to wake a person up.
5. Restless legs syndrome
This is a condition characterized by an uncontrollable urge to move your legs. It is often accompanied by uncomfortable sensations, such as pricking, burning or tingling in your legs. Vein disease is a common cause of restless legs syndrome, and your varicose vein doctor will help you find out the exact cause and offer appropriate treatment.
What is the best method to treat problematic veins in legs? The answer: minimally invasive vein treatment
How does your varicose vein doctor treat vein disease? The best solution is to get rid of the defective vein that is causing the problem. Earlier, this would be achieved by varicose vein removal surgery. However, experts now believe that sealing off defective veins achieves equally effective results. Any advanced varicose center offers minimally invasive vein treatment to seal off the vein.
These treatments are designed for varicose veins as well as venous insufficiency. The defective vein is identified using ultrasound imaging, and sealed off using one of the following methods:
Radiofrequency ablation: Heat from a radiofrequency device is used to seal the veins shut from within.
Endovenous laser ablation: Laser energy is used to seal the vein off
VenaSeal: The vein is super glued shut using medical-grade glue.
Clarivein : Veins are sealed off using a chemical solution, which is dispersed throughout the vein using a rotating catheter 
Spider vein treatment is mostly cosmetic, and you may even see beauty spas offering treatment. But beware – such spas usually only offer laser vein treatment, which involves shining laser light on the skin over the spider veins. A varicose vein doctor's first treatment choice for spider veins would be sclerotherapy, which involves injection of a chemical solution called sclerosant into the spider veins. The solution makes the vein walls sticky, and seals the vein shut. Sclerotherapy is three to four times more effective than laser treatment and you can see visible results in a single session. 
After minimally invasive treatment 
Following minimally invasive leg treatment, you do not need any recovery time, and you can get back to your daily routine immediately. There are no side effects of spider vein removal or varicose vein treatment. For most procedures, you will need to wear compression stockings for a couple of weeks after the procedure – this helps the veins stay sealed shut, and also minimizes leg swelling and bruising that can occur during healing. 
Vein Treatment Clinic: Offering State of the art varicose veins treatment and spider vein treatment 
The Vein Treatment Clinic is a premier vein center that offers advanced treatment for all vein conditions, including varicose veins and spider veins. Vein physicians at VTC have pioneered the use of minimally invasive vein treatment, and we offer the most advanced, clinically proven solutions for vein disease.
The vein doctors at VTC believe in holistic, personalized vein treatment. Our treatment plans are always unique and tailored to meet the needs of each individual patient. If you are unsure of what vein condition you have, or what treatment you might need, our vein experts are here to help!
The Vein Treatment Clinic has vein centers at different locations across the country. If you would like to schedule a consultation with our vein doctors at one of these locations, you can book an appointment online, or call 855-699-2004
Book a Consultation
Scheduling a consultation with one of our vein treatment experts is one of the best ways to determine the proper resolution for your varicose veins. The treatments can include sclerotherapy, laser or radiofrequency ablation, a medication called Varithena, or procedures such as Venaseal, or Clarivein.
Meet our Vein Specialists
Venous specialist | Harvard Medical School
Dr. Khimani is a nationally recognized leader in the field of venous medicine. She is an expert in Spider Vein and Varicose Vein Treatment based in New York City. While Dr. Khimani treats a variety of patients experiencing varicose vein problems, she also sub-specializes in the treatment of vein disease in women, including those with pregnancy and post-pregnancy related spider and varicose veins.
If you have varicose veins and spider veins, suffer from leg cramps, leg swelling, or restless leg syndrome, come see Dr. Khimani at our Vein Treatment Center NYC. Most procedures are covered by major medical insurances, including Medicare. Call us and get verified today.
We know health insurance is confusing so we will help you check if you're covered:
By emailing or contacting us, you are accepting the inherent privacy limitations of online communication. For more information, please read our Digital Communications document. Please respond "STOP" to any text messages to opt out.
TAKE A PERSONAL LOOK AT OUR CLINIC via
Instagram
What Conditions Can I Visit a Varicose Vein Doctor for? A Top Vascular Surgeon Answers
ultima modifica:
2020-09-20T08:17:04-04:00
da