A Top Vein Doctor Lists 8 Benefits of Seeking Varicose Vein Treatment in California.
Varicose vein treatment in California: What does it actually do?
Varicose veins actually form because the leg veins are effective, and they fail to transport blood from the legs to the heart efficiently. This results in accumulation of blood in the legs, which makes the veins swell under pressure. When you get varicose vein treatment, what actually happens is that the defective veins are sealed off, so that blood can no longer flow through them. Once this happens, the blood finds alternate, healthier veins to go back to the heart. The excess blood drains off from the leg, decreasing the pressure within the leg veins. This can improve your health in several different ways. Read on below to find out!
1. You will get rid of leg pain
With varicose veins, the main vein problem one often experiences throbbing leg pain that runs along the length of your legs. This pain goes away after varicose vein treatment
2. Your feet and ankles will not swell up at night
The excess fluid from the leg veins can cause your feet and ankles to swell. This is especially common after you have been sitting or standing for long periods of time. After varicose vein treatment, you will notice that this swelling no longer occurs – you can say goodbye to heavy, aching feet at the end of a long day!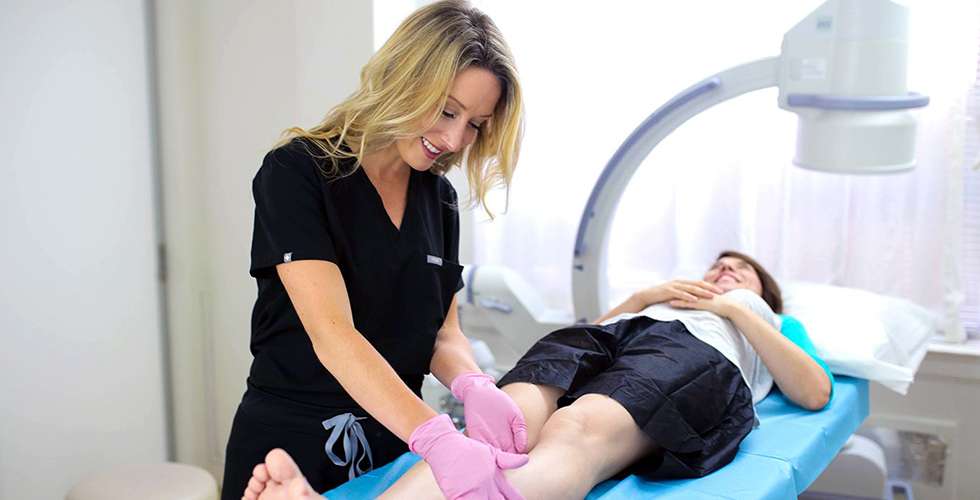 3. Your legs won't suddenly 'give way' after you have been on your feet for long periods of time
The excess fluid accumulation prevents proper nutrition from reaching your leg muscles; you may find that after standing or walking for long periods, your legs suddenly feel fatigued, and you simply must sit down. After varicose vein treatment, you can go on for hours without a break! 
4. You won't get leg cramps that wake you up in the middle of the night
The accumulated blood can break down and release toxic products. These can cause the leg muscles to spasm, which results in leg cramps. Waking up to these leg cramps in the middle of life can wreak havoc with your sleep and quality of life in general. After vein treatment, you can expect uninterrupted sleep!
5. You will eliminate the risk of sudden, uncontrolled bleeding
Over time, varicose veins swell up dangerously under pressure. This is like a ticking time bomb – even a minor scrape against this swollen vein can cause it to burst, resulting in severe bleeding. After varicose vein treatment, you do not have to worry about making sudden, unexpected trips to the emergency room!
6. You will eliminate the risk of deep vein thrombosis
When blood stands still for a long time, it tends to clot. When you have varicose veins, the accumulated blood can also form clots with the blood vessel. These clots can travel to the deeper veins of the leg, resulting in a condition called deep vein thrombosis (DVT). DVT can cause severe leg swelling and pain. The clot can also sometimes travel through the deeper veins to the heart and lungs, and can block off blood circulation to these vital structures. This can have life-threatening consequences! By getting varicose vein treatment, you eliminate the risk of these serious complications.
7. The skin over your veins will feel softer and look better over time
The toxic products released by breakdown of blood can cause the skin to turn reddish-brown incolor, and it can take on a rough, leathery consistency. When you get your varicose veins treated, over time, the body eventually clears all the toxic products away and your skin will return to normal.
8. Your legs will look great!
Once you get your varicose veins treated, the unsightly appearance of the visible veins will disappear from sight, and your skin will regain its flawless appearance, making your legs look great! In California, this means you can wear those shorts and skirts again!
Vein Treatment Clinic: Offering advanced vein treatment in California 
If you are unsure about where to seek varicose vein treatment in California, you can visit the Vein treatment Clinic! A premier medical clinic with branches all over the country, VTC offers advanced, minimally invasive treatment options for varicose veins and spider veins.
At our vein center in California, our highly experienced vein specialists focus on patient centered care, and they treat patients with kindness and compassion. Our vein doctors are:
Dr. Billy Schoenfeld: Trained at Harvard, Dr. Schoenfeld is a double board certified cardiovascular care expert.
Dr. Jasmine Koo: Born and raised in California, Dr. Koo is also double board certified. She has been specially trained in performing modern minimally invasive vein procedures. 
Our vein center in California is located in San Diego, near the famous Torrey Pines Beach State Park. It is very close to the Westfield UTC shopping center. If you would like to consult with one of our vein specialists at this location, you can book an appointment online, or call 858-859-9774.
Book a Consultation
Scheduling a consultation with one of our vein treatment experts is one of the best ways to determine the proper resolution for your varicose veins. The treatments can include sclerotherapy, laser or radiofrequency ablation, a medication called Varithena, or procedures such as Venaseal, or Clarivein.
Meet our Vein Specialists
Venous specialist | Harvard Medical School
Dr. Khimani is a nationally recognized leader in the field of venous medicine. She is an expert in Spider Vein and Varicose Vein Treatment based in New York City. While Dr. Khimani treats a variety of patients experiencing varicose vein problems, she also sub-specializes in the treatment of vein disease in women, including those with pregnancy and post-pregnancy related spider and varicose veins.
If you have varicose veins and spider veins, suffer from leg cramps, leg swelling, or restless leg syndrome, come see Dr. Khimani at our Vein Treatment Center NYC. Most procedures are covered by major medical insurances, including Medicare. Call us and get verified today.
We know health insurance is confusing so we will help you check if you're covered:
By emailing or contacting us, you are accepting the inherent privacy limitations of online communication. For more information, please read our Digital Communications document. Please respond "STOP" to any text messages to opt out.
TAKE A PERSONAL LOOK AT OUR CLINIC via
Instagram
Auto Draft
ultima modifica:
2020-10-01T10:25:19-04:00
da