What Can I Expect When I Visit a Leading Vein Center in Suffolk County? A Top Vein Doctor Gives You a Heads-up.
You will have an initial consultation with an experienced vein specialist. 
When you visit the Vein Treatment Clinic, you will consult with our foremost vein expert, Dr. Caroline Novak. Dr. Novak is board certified in internal medicine, and she has a certified diplomate from the American Board of Venous and Lymphatic Medicine, which attest to her skills as a vein specialist. She is also recognized for her expertise in vascular imaging, which is a key tool used during the diagnosis and management of vein conditions.
Dr. Novak firmly believes in providing patient centric, individualized care, which is why she will take the time during her consultation to get to know you in detail. She will review your personal and family history, and will talk with you to understand what problems you have been experiencing. You will need to go over your symptoms, such as leg pain, or ankle swelling with her, and you will discuss what you expect to get out of your vein treatment.
You will probably need an ultrasound to get a closer look at your veins. 
Varicose veins and spider veins commonly develop due to a defect in the larger leg veins, which prevents blood from draining back efficiently to the heart. This condition, called venous insufficiency, can be detected by the vein doctor through a duplex ultrasound. The duplex ultrasound is basically an imaging technique that allows the vein doctor to look at the pattern of blood flow in your legs. This allows the vein physician to map out all the defective veins, and tailor a treatment plan that would address all these veins.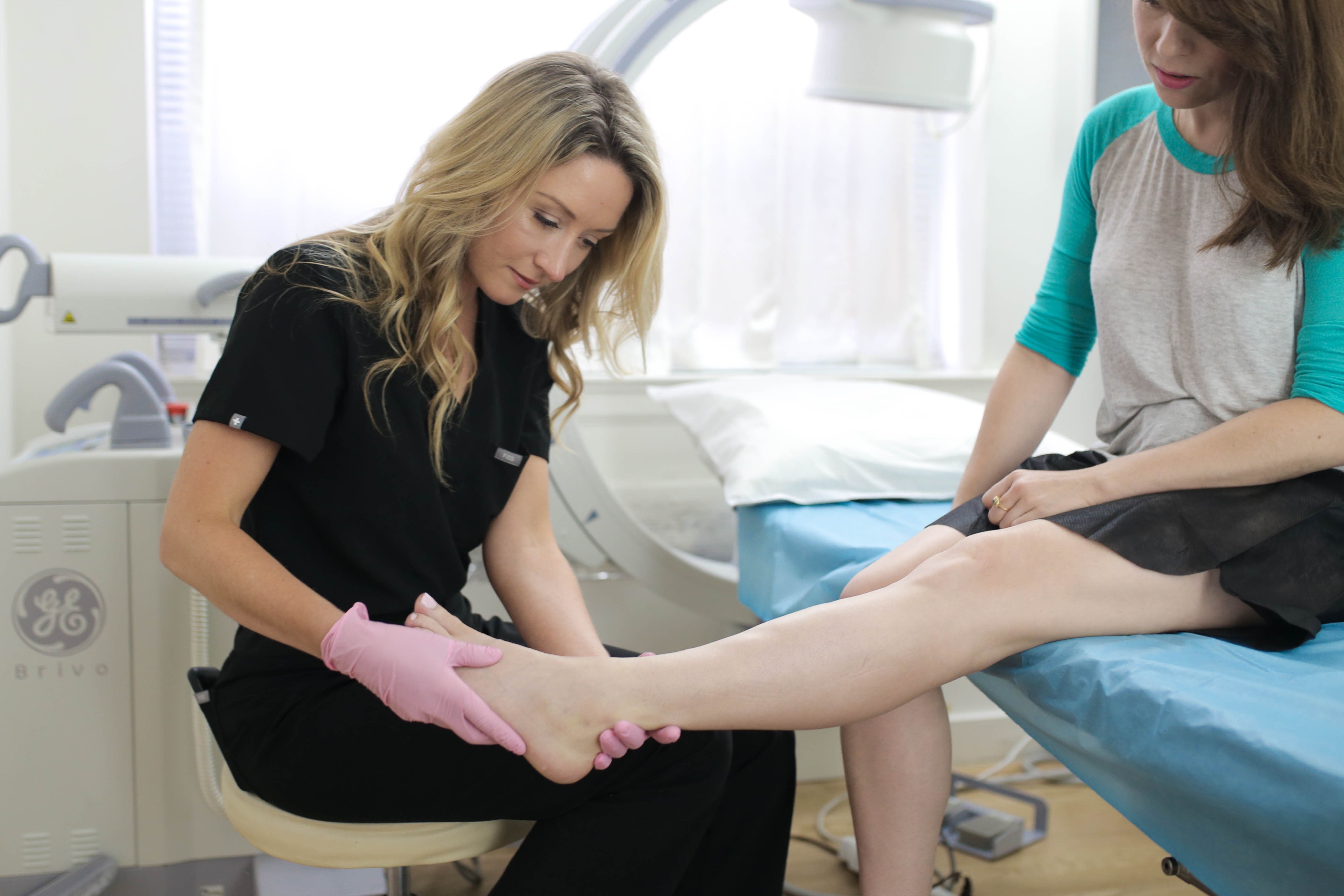 The vein doctor will use minimally invasive treatment to treat your varicose and spider veins.
Many people expect that vein treatment involves surgery to remove them. This was once done by vascular surgeons; however, vein specialists today prefer to use minimally invasive treatment, which aim at sealing off the defective veins from within. This does not require advanced anesthesia, and does not need lengthy hospital stays. Most forms of minimally invasive treatment can be done using a simple numbing injection, and modern, state of the art procedures do not even need these. These are performed within the doctor's office itself, and you only need to arrive right before your appointment. The procedure usually lasts for about an hour, and you can leave right away. The biggest advantage of minimally invasive procedures is that they do not require any down time or rest – you can even go to work right after the procedure!
The largest leg vein that is defective is usually addressed first. 
Usually, vein doctors treat the largest leg vein that they find id defective. This is usually the saphenous vein, which begins in your thigh and runs all the way down to your lower leg. So, if your main concern is the visible, bulging veins on your lower legs, do not be surprised if the vein doctor performs a treatment procedure on your thigh! The main vein is usually closed off using one of the following methods:
VenaSeal: Medical grade superglue is used to seal veins
Radiofrequency ablation: Heat from radiofrequency waves seals off the veins
Endovenous laser ablation: Laser energy is used to seal veins
ClariVein: Uses a rotating catheter to disperse a chemical solution throughout the vein. The solutions seals the vein off.
Once the larger vein is blocked off, most of the smaller bulging veins resolve on their own. To treat the residual visible veins, the vein doctor may use one of the following procedures:
Sclerotherapy: Reserved for spider veins. A liquid solution called sclerosant is directly injected into the veins to seal them off.
Varithena: Reserved for larger residual veins, it uses a foam based sclerosant.
Depending on the procedure, you may need to wear compression stockings for a couple of weeks after the procedure.
Most of the vein treatments, including radiofrequency ablation and sclerotherapy, require that you wear compression stockings for two to three weeks after treatment. These stockings reduce swelling and bruising that can occur as a result of the procedure. The stockings also help keep your veins sealed shut during the healing process. With VenaSeal, though, the vein seals shut right away, and you may not require compression stockings afterwards.
Visit the Vein Treatment Clinic for comfortable, affordable, convenient vein care!
The Vein Treatment Clinic at Long Island offers the entire range of spider vein and varicose vein treatment options, and our vein doctors tailor treatment plans to suit you, based on your comfort levels, vein disease and body type. Our vein center borders Suffolk County, and is conveniently located on Montauk highway, right next to the Bergen Point Golf Course.
The Vein Treatment Clinic's team of vein specialists is committed to serving patients not just in Long Island, but in several locations across the country. You can choose a location that is located near you. To schedule a consultation with our vein doctors at any location, you can call 855-807-4936, or book an appointment online.
Book a Consultation
Scheduling a consultation with one of our vein treatment experts is one of the best ways to determine the proper resolution for your varicose veins. The treatments can include sclerotherapy, laser or radiofrequency ablation, a medication called Varithena, or procedures such as Venaseal, or Clarivein.
Meet our Vein Specialists
Venous specialist | Harvard Medical School
Dr. Khimani is a nationally recognized leader in the field of venous medicine. She is an expert in Spider Vein and Varicose Vein Treatment based in New York City. While Dr. Khimani treats a variety of patients experiencing varicose vein problems, she also sub-specializes in the treatment of vein disease in women, including those with pregnancy and post-pregnancy related spider and varicose veins.
If you have varicose veins and spider veins, suffer from leg cramps, leg swelling, or restless leg syndrome, come see Dr. Khimani at our Vein Treatment Center NYC. Most procedures are covered by major medical insurances, including Medicare. Call us and get verified today.
We know health insurance is confusing so we will help you check if you're covered:
By emailing or contacting us, you are accepting the inherent privacy limitations of online communication. For more information, please read our Digital Communications document. Please respond "STOP" to any text messages to opt out.
TAKE A PERSONAL LOOK AT OUR CLINIC via
Instagram
What Can I Expect When I Visit a Leading Vein Center in Suffolk County? A Top Vein Doctor Gives You a Heads-up.
ultima modifica:
2020-08-30T14:59:39-04:00
da