7 Qualities of a Good Vein Dr. in Houston, TX
1. The vein doctor should be accessible.
When looking for a vein doctor, you must consider their distance from your place of residence or work. Advanced vein treatments generally conclude within an hour with no downtime, making them fit easily within a tight schedule. Furthermore, vein treatments often involve multiple sessions. As such, you should look for an accessible vein doctor in Houston, Texas, that you can visit without shifting your daily schedule much.
Dr. Calvin Jung and Dr. Polina Kyriakides are highly accessible vein doctors in Houston, TX. They're the leading vein doctors at The Vein Treatment Clinic, Houston, which is located at 2900 Weslayan St Suite 650, a short drive from the Galleria, River Oaks, and Highland Village. You can book an appointment with the vein doctors online or call +1 346-258-7302.
2. The vein doctor should provide free insurance verification.
You must look for vein doctors that provide free insurance verification. Minimally invasive vein treatments are often covered by insurance if you have underlying chronic venous insufficiency. However, each insurance provider has unique terms and conditions for insurance coverage. For example, some of them require at least six months with compression stockings before the treatment.
Vein Treatment Clinic, led by Dr. Calvin Jung and Dr. Polina Kyriakides, is one of the few vein centers providing free insurance verification in Houston, TX. Furthermore, our insurance concierge handles all your insurance coverage details, works out the terms and conditions, and provides a complete overview of your vein treatment costs. As such, you can proceed with your treatment with complete clarity about your financial situation.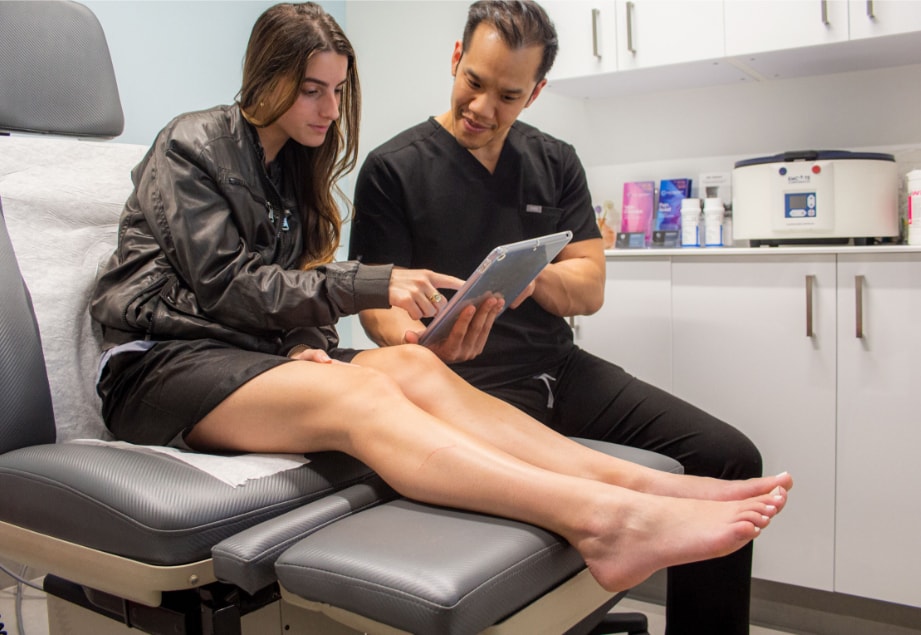 3. The vein doctor should have a perfect track record.
You must look for vein doctors with perfect track records. The best and easiest way to assess a vein doctor's track record is to explore their patient testimonials and ratings. They should ideally have 5-star ratings with brilliant reviews. Patients that experience complications or harsh side effects are likely to leave bad reviews. As such, flawless ratings often indicate a flawless track record.
Dr. Jung has amazing reviews from all his patients. One of them recently wrote, "Dr. Jung is the best doctor for this! He is very attentive, extremely knowledgeable, and super cool. He talks to you like a friend! Also, the staff is very nice and make sure you're comfortable and feel good."
4. The vein doctor should have a strong educational background.
You should look for vein doctors with exceptional educational backgrounds. They should have graduated from reputable medical schools, and they should have completed their residencies and fellowships. Furthermore, the best vein doctors should have specialized training in vascular imaging and the latest minimally invasive treatments for spider veins and varicose veins.
The following is an overview of Dr. Jung's educational background:
Acquired his medical degree from the New York University Langone Medical Center
Completed his surgical residency from the New York University Langone Medical Center
Scored in the 99th percentile in the country during his surgical residency at NYU
Advanced training in complex head and neck procedures, including venous anastomosis reconstruction
Fellowship training in the functional and cosmetic enhancement of venous disease
Specialized training in venous medicine and cosmetic surgery
The following is an overview of Dr. Kyriakides' educational background:
Completed her residency at the University of Minnesota
Specialized training in minimally invasive vein treatments to replace vascular surgeries
Worked at the prestigious Johns Hopkins University and the University of Texas in Houston
Close to 20 years of experience
5. The vein doctor should be associated with a good vein center.
You must look for vein doctors associated with good, state-of-the-art vein centers equipped with cutting-edge technologies. The vein center should only provide minimally invasive vein treatments, have exceptional staff members, and provide free insurance verification.
Dr. Jung and Dr. Kyriakides are associated with the Spider Vein and Varicose Vein Center in Houston, TX. This is one of the most reputable and reliable vein centers in Houston, as evidenced by its unanimous 5-star ratings and reviews from patients. Furthermore, our vein center is equipped with the latest cutting-edge technologies to ensure high-quality vein care.
6. The vein doctor should specialize in minimally invasive vein treatments.
About two decades ago, vein disease could only be treated using complex vascular surgeries, such as vein ligation, venous bypass surgery, and vein stripping. These procedures had a high risk of side effects and complications, such as deep vein thrombosis and infections. Advanced vein treatments, such as radiofrequency ablation and sclerotherapy, are safe and effective, painless, and conclude within an hour with no hospitalization or downtime.
Dr. Jung and Dr. Kyriakides specialize in minimally invasive spider vein and varicose vein treatments. They use vascular imaging tests to visualize the blood flow in your leg veins and identify the root cause of your vein problems. If you have chronic venous insufficiency, they recommend radiofrequency ablation, laser ablation, or venaseal treatments. If you don't have underlying vein disease, they might recommend sclerotherapy or ambulatory phlebectomy for spider veins and superficial varicose veins.
7. The vein doctor should be friendly and charismatic.
Finally, you must look for extremely friendly and charismatic vein doctors who listen to your symptoms patiently and ensure your physical and emotional comfort. Dr. Jung and Dr. Kyriakides certainly meet those qualities — patients often complement their excellent bedside manners.
Book a Consultation
Scheduling a consultation with one of our vein treatment experts is one of the best ways to determine the proper resolution for your varicose veins. The treatments can include sclerotherapy, laser or radiofrequency ablation, a medication called Varithena, or procedures such as Venaseal, or Clarivein.
Meet our diplomat-certified team
VENOUS SPECIALIST | Harvard Medical School
Dr. Michael Nguyen is a world renowned and Harvard trained vein specialist in Manhattan. He leads the team of vein doctors offering the highest level of care at the Spider and Varicose Vein Treatment Center in New York & New Jersey.
As a pioneer in the treatment of varicose veins problems, Dr. Nguyen is considered a top vein expert for developing minimally invasive and customized treatment plans for the many symptoms of venous insufficiency, including leg cramps, skin discoloration on legs, spider vein removal, and restless leg syndrome.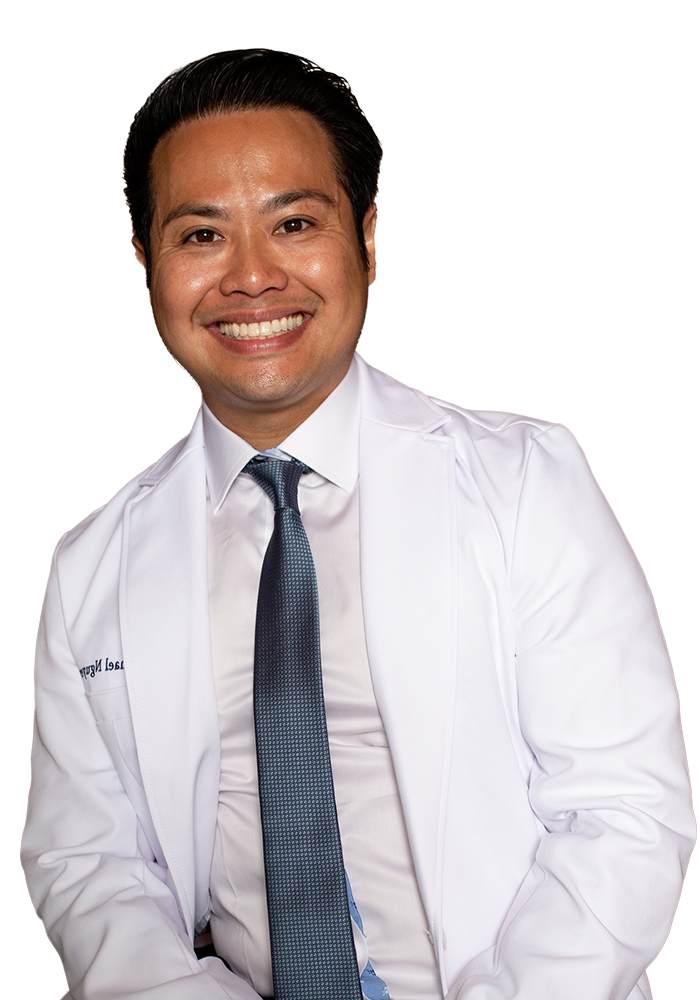 We know health insurance is confusing so we will help you check if you're covered:
TAKE A PERSONAL LOOK AT OUR CLINIC via
Instagram
7 Qualities of a Good Vein Dr. in Houston, TX